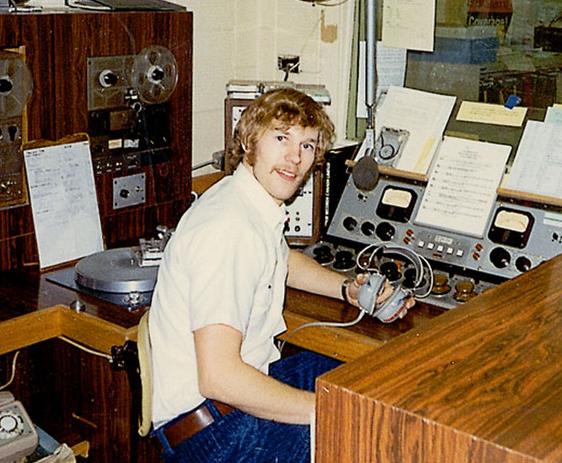 Brian Arnold in studio at CKPG
1944
In November the Canadian Department of Transport granted a license to operate a radio station to CKPG Radio Limited. The principals were brothers Cecil and Frank (Tiny) Elphicke.
1945
In May land was purchased for the transmitter site near the Hudson Bay Slough in Prince George. In August construction of the transmitter began along with leasing of office space. Radio Station CKPG Limited was incorporated and capitalized at $25,000 (2500 shares at 10.00 per share). 1490 shares were issued. In October 1945 Cecil Elphicke moved to Prince George to begin building and equipping office space and studios on the upper floor of the historic Ritts-Kifer Hall on George Street.
1946
CKPG signed on the air on at 5:00 p.m., February 8, operating on 1230 kHz. Studios were in Ritz-Kiefer Hall on George Street and the 250-watt transmitter was at South Fort George. The PG in the call letters represented Prince George. CKPG was owned by Radio Station CKPG Ltd. and was a CBC Trans-Canada affiliate. Some of the original staff consisted of Cecil Elphicke (Managing Director), Ray Tate (Engineer) and Jack Carbutt (announcer).

1947
CKPG moved to 550 kHz with power remaining at 250 watts. However, the listening range increased because of the lower frequency, a factor for stations operating in the mountainous British Columbia interior.

1953
CKPG moved to a new building at 1220 - 6th Avenue, designed by Vancouver architect William Henry Birmingham.

1954
Bob Harkins began as a copywriter at the station.

1957
Harkins was appointed general manager and president of the station at age 26. He went on to become a City Alderman in 1986, spent more than 40 years of his life making the general public aware of the unique local history of Prince George and was presented with the Broadcaster of the Year Award from the B.C. Association of Broadcasters.

1959
On March 1 Cecil Elphicke died and on May 26 Frank Elphicke died.

1961
On August 20 CKPG-TV began broadcasting on Channel 2.

1963
CKPG was given approval to increase power to 10,000 watts from a new transmitter site.

1965
On November 2 the station began transmitting with 10,000 watts
1969
On November 19, Q Broadcasting Ltd. (Vancouver Broadcasting Associates Ltd.) was given approval to purchase Radio Station CKPG Ltd. W. E. Bellman and J. E. Stark of Q Broadcasting would each also hold one common qualifying share.

1973
Gord Leighton became General Manager of CKPG Radio and TV.
1978
Original employee Jack Carbutt retired in March.
1981
On March 1 "Country 101" CIOI-FM began broadcasting at 101.3 MHz.
1990
On October 11, the sale of Radio Station CKPG Limited from Q Broadcasting Ltd. (99.99%) and J.E. Stark in trust for Q Broadcasting Ltd. (0.1%) to Monarch Broadcasting Ltd. was approved by the CRTC.
1995
Sister station CIOI-FM changed call letters to CKKN-FM.
2000
Bob Harkins died on November 28 at the age of 69. On December 21 sale of CKPG Radio and TV to Jim Pattison Industries was approved by the CRTC.
2003
On January 21 the CRTC gave approval to convert CKPG to the FM band, operating on 99.3 MHz with an effective radiated power of 9,300 watts. At noon on May 30 CKPG-AM with a news-talk format became CKDV-FM "The Drive" with a classic rock format.
2004
Over a period of months, starting in September, the stations were moved to a new broadcast center at 1810 3rd Avenue in Prince George.
CKPG Page
<![if !supportEmptyParas]> <![endif]>
<![if !supportEmptyParas]> <![endif]>
<![if !supportEmptyParas]> <![endif]>
Home: BC Radio History