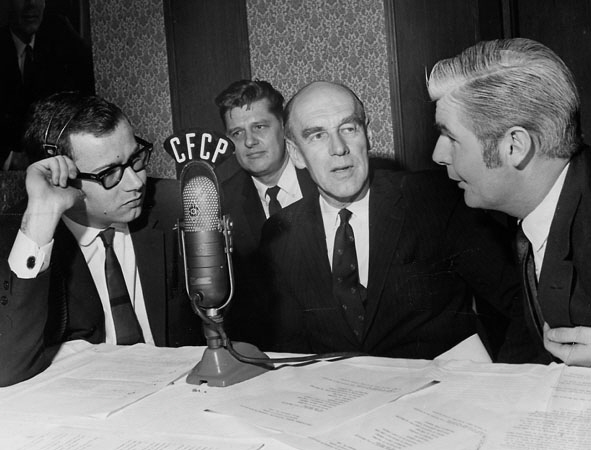 Reporters interview Bob Stanfield
1959
CFCP Radio Ltd. opened CFCP 1440 on September 1. Power was 1,000 watts. The principal owner and founder was William G. (Billy) Browne, formerly of station CJOR in Vancouver and son of well-known radio pioneer William J. Browne.

1974
Sunshine Coast Broadcasting Co. Ltd. was given approval to transfer shares from Donald V. Cartmell to CFCP Radio Ltd. (W.G. Browne 60%) and from Fraser Valley Broadcasting Ltd. to CFCP Radio Ltd.

On February 12, the CRTC approved application by CFCP Radio Ltd. to drop its CBC affiliation.
1990
Norma E. Browne took over management of CFCP Radio Ltd. following the death of her husband, William G. Browne in early 1990. The CRTC approved the transfer of control on December 21, 1990.
1998
CFCP was given approval to convert to the FM band on September 28. The new station would operate on 98.9 MHz directional with an effective radiated power of 2,685 watts (5,000 watts peak).
1999
On November 11, CFCP 1440 (1,000 watts DA-2) became CFCP-FM "Magic 98.9".
2000
Sister stations CFWB Campbell River, CFNI Port Hardy and CHQB Powell River reduced the hours of local daily programming to 6 per day (6 a.m. to noon). All other programming for these stations originated from CFCP.
2005
In late July, it was announced that CFCP Radio Ltd., owners of CFCP-FM Courtenay, CFWB-AM Campbell River, CFNI-AM Port Hardy and CHPQ-AM Powell River had been purchased by a Calgary group, headed by Margot Micallef. On September 1, The CRTC announced approval of the sale to 1126144 Alberta Ltd., a company affiliated with Vista Broadcast Group Inc.
In late October, CFCP's format was changed to "Jet FM - The Island's Best Rock", with its previous adult favourites and identification of "Magic FM" moving across the water to sister station CHQB Powell River.
CFCP Page
<![if !supportEmptyParas]> <![endif]>
<![if !supportEmptyParas]> <![endif]>
<![if !supportEmptyParas]> <![endif]>
Home: BC Radio History