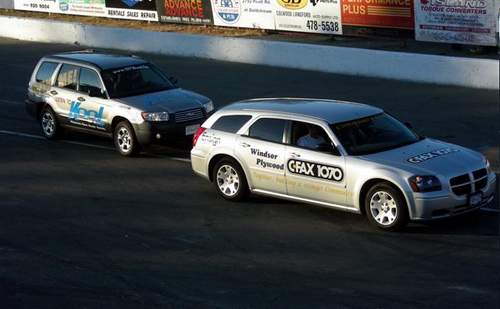 <![if !supportEmptyParas]> <![endif]>
CFAX Page
<![if !supportEmptyParas]> <![endif]>
<![if !supportEmptyParas]> <![endif]>
C-FAX 1070, "Victoria's News Authority" is the market's only news/talk radio station. Starting on-air on September 5, 1959, this AM station is now the second highest rated news/talk radio station in B.C.
When C-FAX first hit the airwaves in 1959, it could be found on the AM dial at 810 and sounded quite different compared to today. Originally C-FAX was "your good music station" owned by Ellison Queale and Roy Parrot who had no prior experience running a radio station; they were suppliers, supplying electronic radio equipment around Victoria.
C-FAX 810 AM had a frequency of 1,000 watts and was daytime only licensing which meant it was heard from sunrise to sunset before a San Francisco based radio station took over the frequency for the remainder of the evening.
Charlie White and Art Phillips were the second owners of C-FAX 810 until 1963 when Clare Copeland and Charlie Smith bought C-FAX and moved the frequency to 1070 AM.
In the hand of the third owners, C-FAX 1070 gained 24 hour licensing, had 10,000 watts and could now reach parts of Vancouver, Port Angeles and Duncan.
The "more music, less talk" station was playing artists such as Frank Sinatra and Bing Crosby with news every hour on the hour.
C-FAX 1070 was finally being recognized, receiving the #1 listened to station for two years in a row.
The last independent sale was in 1974 to Mel Cooper who was recently named the British Columbia Association of Broadcasters' Broadcast Performer of the Year. Mel changed C-FAX 1070 to a "talk radio" station and in 1980 moved the studios from the Central Building to 825 Broughton Street, where it remains today.
Now, Victoria wakes up with the "C-FAX 1070 Wake-Up Team," followed by Newsline AM, Talk It Over and Newsline PM as well as ongoing local, national and international sports and news coverage.
On weekends, programs include a variety of live local and network talk shows focusing on local history, pets, health, home repairs, finance, news, travel, computers and more.
Under the Leadership of Mel Cooper, C-FAX 1070 has received numerous awards recognizing the stations' constant local coverage, community service and strong leadership.
On top of great programming, C-FAX 1070 is well known in Victoria for its on-air celebrities, community spirit, and charity involvement.
This level of commitment has earned C-FAX 1070 Victoria's first "Lifetime Achievement Award" from the Greater Victoria Chamber of Commerce in 2002.
In Fall 2004, CHUM Radio bought C-FAX 1070 and its sister station CHBE.
from CFAX website
<![if !supportEmptyParas]> <![endif]>
***
<![if !supportEmptyParas]> <![endif]>
from wikipedia
CFAX signed on in 1959 as a daytime-only radio station, transmitting at 1000 watts on 810 kHz from a site near the University of Victoria. The original owner's group included the Queale family, who also owned the local Queale Electronics store. The station, undercapitalized from the beginning, quickly ran into financial trouble, with Claire Copeland emerging as owner and manager. In 1964, the station changed dial position to 1070 KHz, and commenced 24/7 operation, transmitting from Trial Island. In 1967, power was increased to 10,000 watts.
Claire Copeland sold the station in 1975 to Mel Cooper, who stepped down as General Manager of CKNW Vancouver to assume ownership of CFAX. Under Cooper's direction, the station increased its emphasis on news and information programming, and developed a subsidiary company specializing in recording original commercial jingles for sale throughout North America, and syndicating radio programming, "Seacoast Sound."