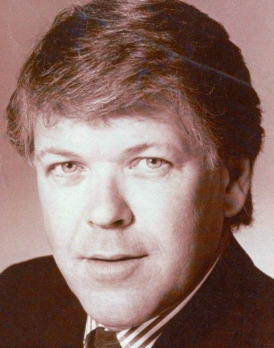 Born
May 13, 1947
- Died
Saturday Feb. 24, 2001
April 3 1973
,

Rick
Honey takes to the Air at CKNW. Now with well over twenty uninterrupted years of service, Rick Honey hosted the afternoon "Road Show" until 1997. source -
"

cknw

"
Rick Honey - CJCB Sydney NS 1970s; Winnipeg; CKLG Vancouver 1970-73; CKNW Vancouver Afternoon Drive 1973-97; Star-FM Chilliwack 1997; CKBD morning show 2000-01; BCAB Broadcaster Performer of the Year 2000.

source -
"

gord

lansdell"
I was deeply shocked to learn of the death of Rick Honey at the age of 53. Rick was a class act with a warm voice and a great sense of humour no matter the personal stuff he was going through. The last time I saw him in living colour was last summer when he was a guest on what was then called Daytime, now Urban Rush. He had just come back from his two year sabbatical after his unceremonious dump from a radio station out in Abbotsford, a gig he took up after 24 years as the afternoon drive host on CKNW. He had left 'NW in the spring of 1997 and at dinner with their then society reporter, Joy Metcalfe, she told me how rough it was that 'NW was losing some legendary personalities, including Rick, Jack Cullen and Gary Bannerman. She would be reunited with Rick, once again, when he joined 600

AM

in August.

(Joy, was fired from 'NW in 1999.)

Rick was holding the morning shift until last Thursday, when he booked out early and went home. In my bathroom I have two radios. One is glued to CKNW and in the mornings while brushing my teeth, I am often heard listening to Frosty Forst, who helped Rick get his start on CKNW back in the '70s. The second radio is tuned to 600AM where on occasion the 'NW radio is turned off for Rick Honey and his corny jokes and sunny disposition. It was throat cancer that killed him and my thoughts are with his wife Gale and their family. Rick Honey will be missed. It truly is a shock. source -
"

joseph

planta"
Rick Honey was a "Jocks Jock", a free spirit who seemed to have fun with everything he did. He was a drummer and played with Neil Young, he beat out Burton Cummings and The Devrons in a "
Battle
of the Bands" and he did such a great job emceeing a charity event one time that Bob Hope personally told him what a great job he had done. Rick was a pro in every sense of the word and I always thought that Rick had the best morning show in the afternoon. My co-workers and I would hang on his every word and then analyze what made him so good and how could we get whatever he had and get a job like his. What made him so good was that he loved what he did and he appreciated his good fortune, as evidenced in his famous daily sign-off, "Thank you
British Columbia
".

Thank you, Rick. source -
"

marc

chambers"
The Rick Honey Comedy Trophy is awarded in recognition of excellence in comedy magic by a junior member. At least one magical effect must be performed in the routine. The spirit of this competition is to encourage growth in the fields of school assembly, banquet, club, revue and cruise ship style magic.source -
"

ring

92"
Rick Honey - Named Performer of the Year by the
British Columbia
Association of Broadcasters in 2000.
Spent 24 years at CKNW.

]
Died of cancer (he did his last show at CKBD just two days before).
His friend and fellow deejay Darryl B. died of a stroke shortly after hearing the news.source -
"

rockradio

scrapbook"