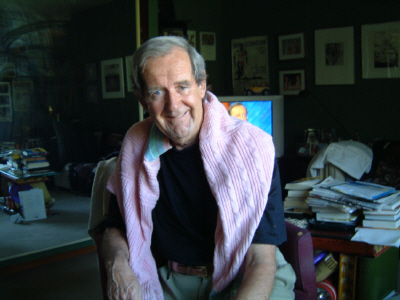 Dave Abbott

For years the lilting Irish voice of Dave Abbott has delighted radio listeners, television viewers and live audiences on four continents as a broadcast columnist, writer and public speaker. Born in Dublin, educated at Trinity College and the London School of Economics, David Kingsmill Abbott moved to Canada as an educator at private schools and colleges in British Columbia. Four years later he entered the lively talk show scene quickly building a substantial audience for stations in Vancouver and Victoria including CKNW 98, CJVI Victoria, CJOR 600 as well as television talk on Global TV.
Overseas he has worked for RTE (Ireland); SABC (South Africa) and BBC (United Kingdom) and The Canadian Broadcasting Corporation (1965 – 1985). The world is Dave's beat. As a Foreign Correspondent he has reported from the globe's most fascinating locales and hot spots, from the Six Day War in Israel to the Philippine Revolution plus Northern Ireland, South Africa, China, Hong Kong and Vietnam.
Abbott is a man of all media whose career includes a wide range of face-to-face interviews including the late President Ferdinand and Imelda Marcos, Li Ka-shing, Baroness Margaret Thatcher, Golda Mier, Sir Peter Ustinov, Mitzi Gaynor and Bob Hope. His documentary projects include The Israeli Wars, The Women of Ulster, A Touch of Tuscany, Africa - One Minute to and 'Dave Abbott's Ireland.'
More recently he wrote and produced an eight-week series called Dave Abbott's Asia and won the TV Viewers Award as Best Current Affairs Host for "Abbott" his daily one-hour talk show on Global (UTV). He also hosted a daily talk show on Radio AM1040 where he was Vice-President Public Affairs and host/producer of Asia-Pacific Diary.
CURRENT ACTIVITIES: Syndicated Newspaper Columnist "Travel Diary" – Canadian newspapers (52) Broadcast Columnist "Travel Diary" – Jim Pattison Broadcast Radio Group: – heard 3 times daily. Television Host/Producer "The Global Village" – Tomorrow TV Channel –Feature writer for Expressions (RSA); The American Post (USA); Opinion (UK); Fleet Watch (RSA); NUVO (www.nuvo.com) Contributing Editor: Radio Canada (CBC); The Sunday Times (South Africa) Enrichment lecturer:: 1996 – to present World and Asian Cruises - Holland America Lines, Radisson and Silver Seas The National Speakers Bureau of Canada - Featured speaker Active member of The Society of American Travel Writers (SATW) Dave's latest book "Catch the Irish Laughter" is a Canadian bestseller.
Web site for Dave Abbott



<![if !supportLineBreakNewLine]>
<![endif]>