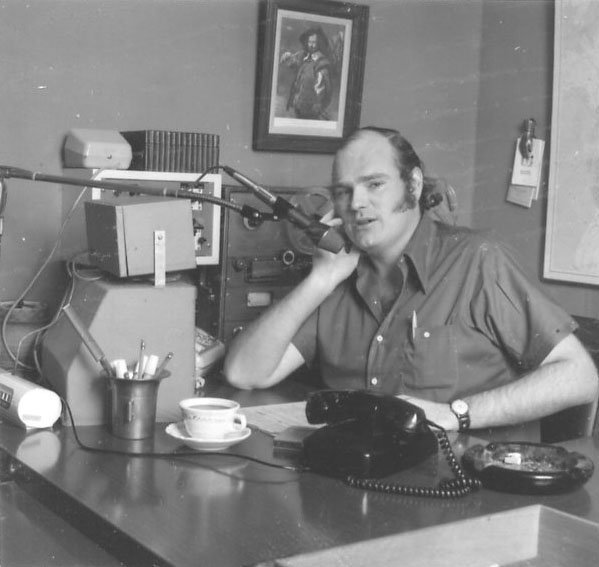 Gary Bannerman
Born at Sydney, N.S. - May 23, 1947
1967 – reporter – Telegraph Journal –
Saint John, New Brunswick
He rapidly rose to become the Irving paper's Legislature reporter and columnist, based in the provincial capital, Fredericton.
1970 – reporter – The Province –
Vancouver, British Columbia
He was recruited by Charles Lynch, then Chief of Southam News, and moved to the west coast to work. He became urban affairs reporter and columnist, frequently traveling Canada to cover city issues. He also covered the provincial legislature when in session.
1972 - talk show host – CKNW
New Westminster, British Columbia
Joins the "Investigators" August 21, 1972
"Bannerman has the physique of a balding overweight 40-year-old. He gulps black coffee and water and pays for it in frequent trips to the washroom. He smokes too much. He seems to be living on a sharp edge, his eyes constantly seeking a spot to land. It must be worth it: "With my ego, I'd love to get out on the roof and yell out my salary but I better not." He is 30 years old and does not win the ratings battle against Webster.

Bannerman operates out of a studio with a superb northern view from the 19th floor of the downtown Holiday Inn. Bannerman would have trouble convincing some guests to travel out to New Westminster. The studio console "the most sophisticated in the world", was designed by an engineer who made maps of my hand movements. Bannerman projects the newshound personality".
(Feb 16/78 Scott McCrae – Vancouver Sun)
'He had looked like death on a biscuit. He had just been released from University Hospital that morning after a near-fatal collapse from extreme liver damage caused largely by his legendary consumption of Bell's Single Malt Scotch whisky. On that July day, Bannerman was gaunt, rickety with weight loss and his skin was yellowish. He looked like a stack of wooden pencils.'
Denny Boyd - Oct 3/89 Vancouver Sun
Bannerman says "Drinking was never a compulsion for me, but it was part of my lifestyle, sitting around a table after my program was over, arguing and debating. I could go through a bottle a day, a bottle-and-a-half, sometimes two bottles a day and often I wouldn't bother to eat."
Until 1988 he hosted a three hour forum, including investigative reporting, commentary, political and celebrity interviews, consumer assistance, health issues and public feedback. He left full time broadcasting in 1988, but returned to CKNW for much of the 1990s as a relief host. He had a daily three-minute editorial on NW and a 15-minute daily news and information program on STAR-FM, located in British Columbia's Fraser Valley. Over the years he has been published in Canadian newspapers and he has appeared as a guest on local, regional and national television shows.
Guests over the years have included Prime Ministers and many Premiers to Arab Princes, show business celebrities, two former heads of the CIA, authors and business leaders. Bannerman's work as a reporter has exposed fraudulent business practices, assisting police in obtaining criminal convictions. He has conducted broadcasts from behind the walls of prisons, and, on three separate occasions, he negotiated hostage taking incidents.
A world traveler, he has done interviews and documentaries from around the globe, including coverage of the October 1973 Yom Kippur War. He is a former director of the BC Ferry Corporation. He has written a number of books including:
Gastown: The 107 Years (1972)
Cruise Ships – The Inside Story (1974)
The Ships of BC: An Illustrated History of the Ferry Corporation (1985)
Collingwood School: The First Ten Years (1994)