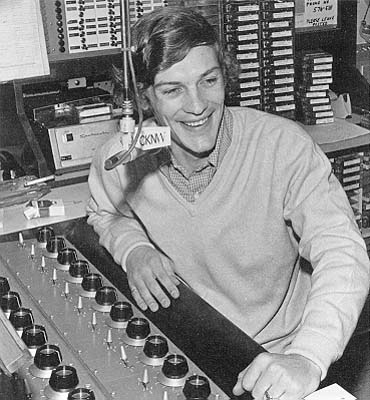 Wayne Cox
CKCQ Quesnel 1968, CHNL Kamloops 1969, PM Drive CKNW 1970-75, host CKVU-TV Vancouver Show; CJOR Vancouver circa 1988; hosted syndicated TV game show 2nd Honeymoon; Global TV Vancouver weatherman current
***
Wayne Cox has been a broadcaster since 1968. He started out as a disc jockey and radio talk show host in Quesnel, Kamloops and Vancouver.
Wayne's hosted a number of television shows, Vancouver Live, Variety Tonight, T.G.I.F. and Newsmakers.
Wayne has also hosted a number of syndicated T.V. games shows including Acting Crazy, 2nd Honeymoon, and Talkabout.
He's worked on television projects in Los Angeles, Brussels and Wellington, New Zealand.
A long time resident of the South Surrey/White Rock area, Wayne is married with 3 children.
When he's not working, Wayne loves to get out on the golf course, or do absolutely nothing on a Mexican beach.
***
1970
†Wayne Cox, of BCTV Weather, starts at CKNW doing the afternoon drive show. "Wayne Cox and Friends" lasts for five years.
***
1990
Legal Wise is Back
The second season of Legal Wise premiered on CBC Television on October 13, introducing viewers to broadcaster Wayne Cox, this yearís co-host alongside lawyer Lisa Nemetz.
And there are other new faces at Legal Wise. Reporters Joanna Piros, George Orr and Mark Daily have also come on board to develop the programís feature stories.
The premier episode offered reports on securities law and the legal aspects of gold panning, as well as column spots on credit card insurance, manufacturing a "look-alike," and Latin legalese.
Upcoming episodes of Legal Wise on CBC and the Knowledge Network include:
October 27 (CBC)/November 2 (Knowledge): Plea Bargaining; Brother XII; limitation periods; pleading "not guilty;" affidavits.
November 3 (CBC)/November 9 (Knowledge): Forensic investigation; privacy law; grey areas of the law; wills; slip and fall in a store.
November 10 (CBC)/November 16 (Knowledge): Native rights; custody, access and guardianship; "Bunjee jumping;" charging a husband with assault; annulment of an arranged marriage.
November 17 (CBC)/November 23 (Knowledge): Ownership of art; young offenders; getting hit by a golf ball; cycling.
Both the Legal Wise producers and the Law Society Communications Committee would like to thank all the lawyers who have contributed to the show so far. They would also like to encourage others in the profession, if they are contacted for an interview respecting their area of practice, to lend support as a commitment to public legal education.
Because Legal Wise stories hit home through the experiences of people who been participants the legal system, you may be asked to contact a client to see if he or she would be interested in appearing on the program as well.
Your suggestions and topic ideas are welcomed by Producer Nijole Kuzmickas and Associate Producer Judy White. Feel free to send them your suggestions at Legal Wise, c/o CBC Television, 700 Hamilton Street, Vancouver, B.C. V6B 2R5.
And at Alexander, Holburn ...
Once each month the 28th floor of the Vancouver law firm Alexander, Holburn, Beaudin & Lang is alive with lights, cameras, and the creative energy of production staff and C.B.C. technical crew ready to pull together new episodes of Legal Wise.
The firmís boardroom has served as a studio site for Legal Wise since lawyer Lisa Nemetz and her co-host Fred Cawsey first reached viewers on CBC Television and the Knowledge Network last Fall. While the site is the same this year, the look is somewhat different. Vancouver broadcaster Wayne Cox, sporting his own unique style, joins Lisa Nemetz as a new co-host for the 1990-91 season, on a modified set with an even more comfortable ambiance.
Since the Legal Wise set backs out on a reception area, Alexander, Holburn has been sensitive about preserving client confidentiality. Clients are issued a memo about the show on filming dates so that, if they could be even partially visible in the backdrop and do not wish to be, they need only tell the receptionist.
Alexander, Holburn notes that it is proud to contribute the use of its office to the program "which the firm hopes will assist in educating the public about how the legal system works."
Clients have expressed curiousity and interest in the production of Legal Wise, says partner David Gooderham.
***
Prior to "Talk About", host Wayne Cox had emceed another Canadian-exported game show, "2nd Honeymoon", which aired on CBN Cable in 1987-88. He later went on to host the long-running (1991-98) Canadian charades game "Acting Crazy" and is now a weatherman for Vancouver's BCTV.
Although the last first-run episode (which saw Wayne bringing the entire staff onstage at the end to say goodbye) aired in March of 1990, a number of stations continued to show reruns until September; these were from the first (Canadian-only) season.
Three years after its cancellation, USA aired reruns of "Talk About" as part of its afternoon lineup for the last half of 1993.
<![if !supportEmptyParas]> <![endif]>
<![if !supportEmptyParas]> <![endif]>
<![if !supportEmptyParas]> <![endif]>
<![if !supportEmptyParas]> <![endif]>
***
<![if !supportEmptyParas]> <![endif]>
<![if !supportEmptyParas]> <![endif]>
<![if !supportEmptyParas]> <![endif]>
Feb 27, 1990
<![if !supportEmptyParas]> <![endif]>
The Vancouver Sun
<![if !supportEmptyParas]> <![endif]>
TWO YEARS ago, Wayne Cox and Jennifer Lyall starred on CKVU as hosts of TGIF, a weekly entertainment magazine. As of last weekend, they're together again on CBC, starring as hosts of Variety Tonight (Saturdays at 10:30 p.m. on Ch. 2), another weekly entertainment magazine.
<![if !supportEmptyParas]> <![endif]>
There are different producers and a different approach to the magazine format, CBC's being more studio-bound (at leasts as far as the hosts are concerned) and superficial.
<![if !supportEmptyParas]> <![endif]>
The word superficial might seem like overkill, considering that this is just another entertainment magazine. But this program makes After Hours and Entertainment Tonight look like heavy hitters in the industry. There were 12 segments in the half-hour premiere program, most of them running about two minutes. Count them yourself:
<![if !supportEmptyParas]> <![endif]>
Interview with Billy (Piano Man) Joel; Interview with Bob (Gilligan) Denver; Interview with Jim (Wiseguy) Byrnes; Interview with Megan (Anne of Green Gables) Follows; New video releases and top rentals; Feature on Jukeboxes; Report on Grammy Awards; Interview with Alannah Myles; Top CDs; Top five movies; Interview with Tom Jones; Interview with Sean Connery; plus a rundown of next week's items (Rob Lowe and Jay Leno).
<![if !supportEmptyParas]> <![endif]>
Cox told us that Lyall flew to Los Angeles for the interview with Connery, but it hardly seemed worth the trip considering they gave him only a couple of minutes to answer four questions. After the interview there was this exchange:
<![if !supportEmptyParas]> <![endif]>
Cox: "That looks exciting. Good movie?"
<![if !supportEmptyParas]> <![endif]>
Lyall: "It is exciting. Big Paramount release."
<![if !supportEmptyParas]> <![endif]>
Cox: "Don't wanna miss that."
<![if !supportEmptyParas]> <![endif]>
Is this worthwhile consumer information for CBC viewers, considering the price of a night out at the movies these days?
<![if !supportEmptyParas]> <![endif]>
Executive producer Robin Winskell said Monday that she and partners Paul Winskell and Gerry O'Day are considering a "critic's corner" for future episodes.
<![if !supportEmptyParas]> <![endif]>
Their company, Waterfront Video Productions, is co-producing this program with the B.C. region of CBC. Six pilot episodes have been picked up in Kelowna, Kamloops, Calgary and Edmonton.
<![if !supportEmptyParas]> <![endif]>
<![if !supportEmptyParas]> <![endif]>
***
August 12, 1987
Denny Boyd Vancouver Sun
<![if !supportEmptyParas]> <![endif]>
<![if !supportEmptyParas]> <![endif]>
Wayne Cox's genial disposition is paying off in as much work as he can handle. Monday morning at 8:30, he becomes the newest host of CJOR's morning talk show and he plans to give a non-political thrust to a program that has preached everything short of Fabianism. Cox, with the backing of general manager George Madden, plans to concentrate on lifestyles, entertainment, the arts and local news.
<![if !supportEmptyParas]> <![endif]>
Additionally, Cox, who spent 7 1/2 years as a newsman and co-anchor of CKVU's Vancouver Show, is the host of Second Honeymoon, a new quiz show - based broadly on The Newlywed Game - that will be produced at BCTV to run in prime time daily on the U.S. pay cable network, CBN. Taping begins in September under producer Wink Martendale, with five shows being taped each week.
<![if !supportEmptyParas]> <![endif]>
As Cox prepares to return to radio next week, Earle Bradford left it this week. The gossipy town crier of Earle's Court on CKNW the past 14 years, Bradford resigned for health reasons Monday afternoon. It's the cancer.