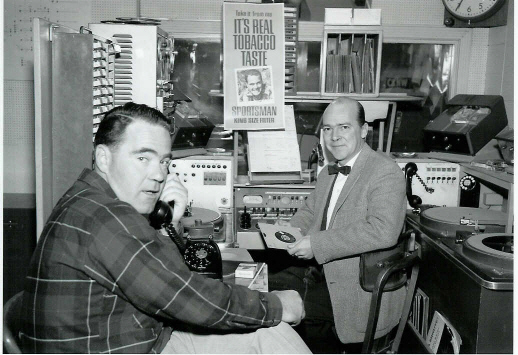 WALLY GARRETT at right, left is Ted Peck
       Wally Garrett is the perfect example of the announcer whose voice belies his appearance.  That huge, resonant sound issued from a small, rather slender frame of 5'6".  Born in Kamsack, Saskatchewan- Wallace Alfred Garrett grew up mostly in Vernon.  He had no special training to develop that voice.  It was just there.  He started in radio at CKOV in 1943.  His natural skills soon got him a job at CKWX, where he occasionally did the news in a tuxedo.  That was on the nights he had earlier hosted a live 'Public Opinion' show from the stage of the Orpheum.  "Tiny Elphicke liked showing advertisers when I was doing the news in a tuxedo.  They were really impressed."
      In 1947, Wally went to CKMO as program director - a step up, but to an unstable environment.  "You'd get your pay cheque and dash over to the bank fast before the money ran out.  I was there three years.  Then I bumped into Bill Rea.  We chatted, but you know, it was a country-and-western station way out in New Westminster.  Well, one day I came to a parting of the ways with CKMO.  It was late in the morning.  The grapevine must have been working fast - Bill Rea phoned me that same afternoon.   I started at CKNW January 1, 1951.  For the first year I took the interurban to work.  I started doing the Vancouver Sun News, had to go down to the Sun Building to do it, then rush back on the interurban for the 10 pm news at CKNW.  It was no sweat.  Today they talk about pressure.  You just did it. I did the morning show for a while."
     Wally's excellence at a variety of tasks meant he was given a lot of work.  (Warren Barker calls Garrett the most well-rounded announcer NW ever had: "He could do it all; soft sell, hard sell, news . . . and a great voice.")  The predictable result was that his workload got heavier and heavier.  Finally, it got too heavy.  "The day before the fire in '54 I was up to my nose in work.  I was meeting myself coming home.  I got a memo from Bill Rea adding more!  Well, that finished it.  I wrote a 2-page letter of resignation.  I was furious." 
    At home, the next day, still fuming, Wally got a phone call.  It was Bill Rea. "Oh, Wally about this memo . . "  "It's all in there, Bill," Wally said, and slammed the phone down.  Later the same day, the phone rang again.  Again it was Bill Rea.  "Oh say, Wally, the station is burning down . . ." Wally slammed the phone down again.  "I thought he was drunk."  Then he turned the radio on, and heard Sid Lancaster excitedly describing the fire,"  "My God," Wally said, "It is burning!"  So he and his wife Marge went down and watched it burn.  The fire eventually cooled off, and so did Wally.  "A few days later I went back to NW for a lot more money and less work." 
In March 1971 after 20 years, Wally and CKNW came to a parting of the ways.
From "Top Dog"
Author Chuck Davis, 1994
Vancouver Radio Museum
***
Wally Garrett - CKOV Kelowna 1943; CKWX Vancouver; CKMO Vancouver PD 1947-1950; CKNW Vancouver 1951-71
***
1924 - May 26 Broadcaster Wally Garrett was born.
***
Jan 14, 1991 - Vancouver Sun - excerpt
Vancouver ham radio operator Wally Garrett was listening to history in the making when he tuned into independent operators broadcasting news of the assault out of Lithuania Saturday night.
"They were operating at some risk," he said, describing operators' reports of the attack and the television station takeover. "They said there were Russian paratroopers disguised in the crowds with automatic machineguns under their coats.
"At first they were just trying to get information out to the rest of the world and to say that they wanted help."
Garrett, a retired radio broadcaster, said at one point, a public information officer for the Lithuanian health ministry made an appeal for emergency supplies from other countries.