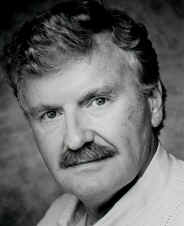 Terry Moore
CKNW says:
Terry Moore became a familiar voice on CKNW. He regularly filled in for all the Talk Show Hosts before leaving CKNW for CHQR, Calgary in 1992.
June 30,1980
***
CFAX says:
From coast to coast, Terry Moore has been a popular personality on the radio for over 40 years. Terry has helped wake up New Yorkers on WTFM, and hosted successful talk shows in Calgary and Vancouver, as well as nationally on  the WIC satellite network, before bringing his boundless energy and infectious mike-side manner to C-FAX.
Terry's ease with an audience comes naturally: he's also an all-around stage performer, having studied music in New York and Toronto, sung opera and musical comedy professionally, and appeared in a number of TV series.
On top of it all, Terry Moore is a published author. His book, "Toothpaste & Peanut Butter", turned into one of the country's more successful collections of household hints, stories and recipes, selling over 75,000 copies since 1988 (and still in print).
As well as hearing Terry daily from 3-7pm, you can catch Terry live and in person in any number of venues: as a dinner speaker, or hosting C-FAX's live on-location broadcasts around Greater Victoria.
***
Vancouverbroadcasters.com says:
Terry Moore - CKUA Edmonton; CFCN Calgary; CKFH Toronto; mornings WTFM-FM New York; talk show host CJOR Vancouver 1970s; CKWX Vancouver; CKNW New Westminster 1980-92; author household hints publication Toothpaste & Peanut Butter 1988; talk show host then mornings CHQR Calgary 1992-99; news anchor CICT-TV Calgary 7 early 1990s; p.m. drive talk show host CFAX Victoria current
***
Vancouver Sun says:
One day, Flo Daws was listening to the radio when CJOR talk show host Terry Moore agreed to be the leader of any listeners looking to get some exercise. Originally they met in Stanley Park, but then Moore arranged access to Swangard Stadium because it was a more central location.
"It was outside and I thought I'd like that better," says Daws.
Right from the start, Moore's Milers as it was originally called, included monthly social gatherings which the club still does today. Eventually Moore's interest waned, he changed radio stations and moved away from the Lower Mainland.
***
Calgary Herald says:
Today is the last day for Calgarians to hear Terry Moore's on- air conversations.
The popular host of the QR77 Morning Show with Terry Moore is quitting the talk radio station, where he has hosted the morning program weekdays, Monday to Friday, for the past five years.
Every morning he has had to wake up at to get ready for his show's ultra-early start, he says. But come this Monday morning, he hopes to snooze a little longer.
"I'll be sleeping in until at least ," he says with a laugh.
"Even that's probably a bit of a stretch."
He's far from retiring, though. He plans to spend more time with his family and pursue other interests. He'll continue his acting career and help his wife and two daughters run Capilano Canyon Guest House, a bed and breakfast that they own in Vancouver.
Moore, 63, has commuted from his family's home in Vancouver to Calgary every week for the past five years.
He has four children and six grandchildren.
"It's time for me to go home," he says.
Moore started his broadcasting career in Edmonton, and did stints at radio and television stations across North America, including Edmonton's CKUA, CFCN Radio in Calgary, Toronto's CKFH and the former WTFM in New York.
He spent a year as a TV news anchor on Calgary 7 in the early 1990s.
He started at QR77 in 1992, where he hosted a talk show until moving to the morning time slot five years ago.
Jay Donald, QR77's program director, says Moore is "quite a character," who has often kept the radio station's phone lines busy with his lively, sometimes controversial topics.
"He had a knack for riling people up. . . . He'd do a piece with some bishop who had sort of lost his way from the church's doctrine," says Donald.
"Boy, he'd whip some of the audience into a frenzy when he did that. If he wasn't getting as much response as he wanted, he'd say, `Hey, listen, don't sit on your hands for this one.' "
Moore, however, says his most memorable interviews have been with the stars.
He once spent a day on the MASH set, and hung out with Milton Berle at Berle's Hollywood home.
He also interviewed actor Kirk Douglas in Hollywood, on assignment for a radio station in Vancouver several years ago.
Douglas promised him a 20-minute chat over lunch, but the meeting sparked into a friendship.
"Two and a half hours later, we were still talking," he says, adding that he still has a letter he received from Douglas.
He cherishes his memories of meeting comedian George Burns, too.
"I walked into his office and he was getting ready to do a television special," says Moore.
"He stands up and he says, `Mr. Moore, you come sit here.' He gave me his chair and he offered me a cigar. I don't smoke, but I do still have it. . . . Every once in awhile, I'll moisten it with a bit of cognac."
Moore is also an accomplished TV, stage and movie actor who has appeared on many TV and movie productions, including two Alberta- made feature films, My American Cousin and its sequel, My American Boyfriend.
"I played the cigar-chomping, loud-talking uncle," he says with a laugh.
In addition to radio, Moore trained as an opera singer and was a founding member of the Alberta Opera Company (now the Edmonton Opera Company).
And he's an author, too. In 1988, he wrote a best-selling book, Toothpaste and Peanut Butter, a household hints guide that sold 75,000 copies and is still in print.
He's currently working on a second book, but he will say only that it is a "corporate" book.
Aug 20, 1999