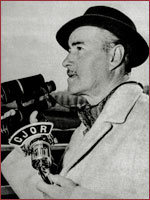 Jack Short

Jack Short (1908-1992) The voice of the races: 'and there off',,,,,, adios amigo!
For 43 seasons Jack Short called the horse races at various tracks. His love for the sport began as an 11 year old in Victoria. Short was the spirit of BC racing, it's most identifiable figure and sometimes it's conscience.
He called the races at Hastings Park, Lansdowne, Brighouse in Richmond and at The Willows, Colwood, and Sandown on Vancouver Island. He had wanted to ride but learned that God had not designed lean six-footers to perform as jockeys and he moved on to various jobs, including a porter on a steamship and a dance troupe performer and landed in California, but soon he would return to BC.
In 1932 he began broadcasting results of the races at CKMO Vancouver as a sound effects man banged hollowed coconut shells on a table to simulate hoof beats. Short rattled off the horses' names from his notes. Jack could talk fast and clearly – running through a 10-horse field in quick, accurate succession – and he made the event so vibrant that many radio listeners were enticed to come out to see the real thing.
When he left his perch on the roof at Sandown Park, in 1976, his eye was still keen and his voice still hit the high notes, he was at the top of his game. He called about 50,000 races, more than any track announcer in North America.
In a 1986 interview Short said: "I sometimes think the Good Lord looked down on this kid who didn't have any education and felt sorry for him. Then He said, 'Let's give him the gift of the gab'."
The Canadian Racing Hall of Fame took great honour in welcoming "Chief Flying Voice", as he is referred to by the BC Natives when they made him honourary Chief. He was reputed to be one of the more affluent of performers in Canadian broadcasting but to quote the man himself 'I doubt it - but Mrs. Short thinks so'
Born in BC's capital city of Irish-English pioneer families, Short lived with his grandmother in the famous "Old Haunted House" on Heron Street near the old Willows race-track. He had washed dishes from here to Skagway on the old Princess Charmer. During those hungry thirties Short led a double life as a refrigerator salesman by day and ran his own dance band at night - "Jack Short's Caballeros" at San Bruno, California. He even tried a fling at vaudeville as one-half of a dance team.
It was a tough time in Vancouver making a living on straight commission as a time salesman, especially when half the clients didn't bother to pay. These were difficult days, but Short was acquiring his expertise by broadcasting sports at night; baseball, soccer, the fights, and basketball. During the 40 years Short sold over $3,000.000 in broadcast time and much of that was the hard way in the days when time was cheap at 50 cents a spot.
He is the first person to have conferred on him a life membership of the B.C. Thoroughbred Breeder Society. He was a former commissioner of B.C. Amateur Boxing and a member of the BC Racing Commission.
He was also the first person to broadcast while riding a horse over a series of jumps with a pack transmitter on his back and managed quite successfully to give a running commentary.
Another anecdote of Short's career is the time he made a recording of the 1952 B.C. Derby. It was won by Battered Down (an imported horse bred by the King George VI). Jack mailed the recording to the Royal Family, well-known for their love of horses, and received a cordial reply from the palace secretary saying that their Highnesses had enjoyed listening to it.
|