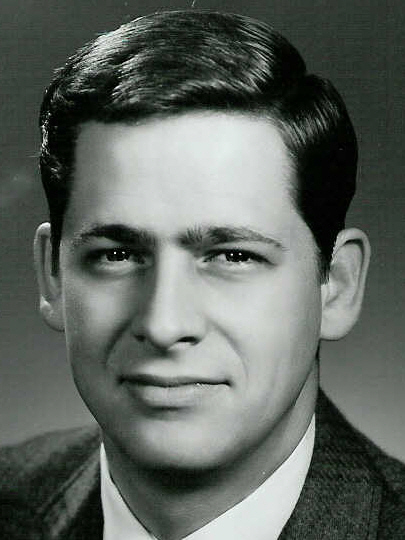 Robert Malcolm
News: CKDA Victoria; CFUN Vancouver early 1960s; CKNW New Westminster; BCTV Vancouver 1972-1991
***
1991 - With ratings declining, it's anchors away at BCTV.
Veteran newsreaders Robert Malcolm and Doriana Temolo are being moved aside for fresh faces.
Replacing the 50-year-old Malcolm on the newscast - starting tonight - is Linden Soles, formerly of CKVU (now U.TV).
Soles, 35, will also take over the newscast from Tony Parsons, who plans to devote more time to special reports for the telecast.
Temolo will be replaced on the Noon Newshour by Deborra Hope.
Veteran reporter Alyn Edwards is also being reassigned, although Parsons, BCTV's vice-president of news, wouldn't be specific about Edwards' new role.
Malcolm, who has been with BCTV for 19 years, has lunch scheduled for today with Parsons, his boss. They'll discuss what future role Malcolm will play.
"Between himself and myself, we'll decide what he wants to do and where he fits in in the scheme of things," said Parsons, the anchor. "He'll be with us in some capacity, either producing or writing, or doing the things he wants to do."
The 6 and newcasts suffered audience dropoff in the last ratings period, especially with younger viewers.
"There's no doubt in our minds that our audience is skewing a little bit older than we would like it to be," Parsons said.
Malcolm, reached Sunday at his Cultus Lake home, said he was "devastated" when he first heard the news.
"I don't think 50 is over the hill in this business," he said. "If they can use my 30 years of news sense, where maybe I can have a say in the on-air product, I'm sure we can work out something." Temolo, who will move to reporting and producing news features, as well as work on provincial election coverage, refused to comment on the changes.
The Noon News Hour also gets an overhaul. Besides Hope taking over from Temolo next week, the show will transform into a lighter newsmagazine.
Soles, who won an international Peabody Award during his four-year stint at CKVU, got fired from the 'VU anchor desk in 1989. He worked as a substitute anchor at BCTV over the summer and tested well with audiences.
"I went through this myself so I can feel for Robert," Soles said. BCTV sportscaster John McKeachie, who's worked the late shift with Malcolm for 17 years, said he's still trying to understand what's happening at the station. "Anytime that happens to a good friend, never mind someone who's a professional like Rob, it's a shock to the system," McKeachie said.
Pete McMartin's feature article on the apparent financial woes and purgings at BCTV (Six O'Clock Blues, August 8/92) provided a glimpse into the reality for hundreds of broadcasters working in radio and television stations throughout B.C.
It is not unusual, especially in smaller stations, for tight-fisted management to pay journalists poverty-level wages and encourage them to work unpaid overtime.
Those who complain, or consider unionization, are blacklisted or replaced by one of the constant stream of new graduates from the journalism schools. It is not unusual for management at these stations to routinely censor news that may upset advertisers.
I was personally saddened by the unceremonious dumping of Robert Malcolm. He was a mentor for me in journalism school nearly 15 years ago, spending hours after his late-night newscast at BCTV to tutor me in my news writing. The firing of talented journalists like Mr. Malcolm, Allyn Edwards and Belle Puri makes a mockery of BCTV's self-serving advertising, and exposes an often hidden underbelly of the broadcasting industry.
I quit the news business and returned to university three years ago, sick and tired of the way the broadcast media exploit and trivialize people and issues. Your story gave the public a chance to realize they're not the only ones being exploited.
DOUG BLACKIE
***
There are the three dismissal suits BCTV faces, one from Margot Harper, one from reporter Neale Adams (who was also fired May 1) and one from news anchor Robert Malcolm.
Malcolm was a 20-year veteran, the avuncular night news anchor who was Mutt to John McKeachie's Jeff. He was taken off the air last September, two days after he got back from holidays. Malcolm had a following.
"There were thousands of calls complaining of the move," Malcolm said, "all to no avail."
Six months of uncertainty culminated in a heart attack for Malcolm. He had it in the newsroom. When he returned to work in June, he was informed the only position available was that of a reporter. He turned the offer down and his employment with BCTV was terminated.
As for Harper and Belle Puri, they rebounded quickly. CBC television news hired them within the month. There, they joined another BCTV alumnus, reporter Alyn Edwards, a 20-year veteran reporter who was fired last September, when Parsons informed him they had made new plans for the fall and Edwards didn't fit them. Edwards took his two national news awards with him.
"I'm glad to be out of (there) after 20 years," Edwards said. "I think it's an operation in decline. They fire their best reporters and hire young inexperienced reporters who'll work cheap.
"I think (Black Friday) was a sad day in Canadian television journalism."
pete mcmartin sun aug 8 1992