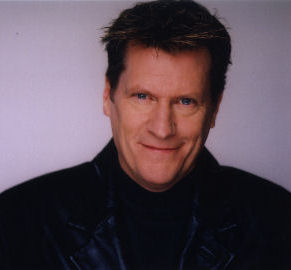 Rob Christie
Rob Christie - CFOX Pointe Claire QC; Calgary; CKGM Montreal 1976; morning drive host CHED Edmonton late 1980s; CKFM-FM Toronto 1994-99; CKKS-FM/CKLG-FM Vancouver morning co-host 1999-2003; BC CTV Vancouver weekend weather 2001-03; a.m. drive CISS-FM Toronto 2003-05; morning host CHMC-FM Edmonton 2005-current
*****
It's easy to fall under Rob Christie's spell.
As the morning man for Magic 99.3 FM, his warm, golden voice is a welcome antidote to the jokey or airheaded hosts cluttering Edmonton's airwaves.
In person, the award-winning DJ is just as enchanting.
Even after years of early mornings -- he wakes up at -- and hopping from job to job across the country, there's still a twinkle in Christie's eye. He's back in Edmonton, where his career first took off in the '70s with 630 CHED, a former pop/rock station where DJs were given creative license and rewarded with ridiculously high ratings coveted by radio programmers across the country.
With the launch of Magic in early December, Christie sees a similar opportunity. Owners of the jazz, blues and soft-rock station, Rawlco Radio, call it the first of its kind in Canada and, perhaps, North America.
"It's given me hope for radio again," he says. "And the fact that I would be part of it is pretty damn exciting. It's probably one of the most enviable positions in Canadian radio right now."
Unlike most commercial stations, Christie and his colleagues aren't following any tested formulas. Nor are they relying on charts, focus groups or radio consultants to tell them what songs to play. Instead, he has an active hand in programming the station's playlist -- which includes a cross-section of international notables and local acts.
Tune in to Magic and you're apt to hear Edmonton's Anna Beaumont next to Van Morrison, Diana Krall, Bonnie Raitt, Grant MacEwan Jazz Band and Melissa Boyce, a jazz artist Christie discovered in Toronto.
So far, he says listener response has been overwhelming. The station will get the results of its first ratings in April.
"Right now, all we have to measure it is e-mails, faxes and phone calls and guys in Home Depot parking lots," he says. "But it's been 99-per-cent positive. It's like we've struck a chord. We get 17- year-olds and 25-year-olds and 50-year-olds. All we've given voice to is a movement that was already underway -- people were buying the records and going to the concerts. And for me, I really like this stuff. It fits our lifestyle. But I still have my Led Zeppelin."
For those who woke up with Christie in the '80s and early '90s, his metamorphosis into a Magic man seems like the work of sorcery.
He used to be one of those aforementioned jokesters -- faking his own assassination, putting on a tutu and dancing with Alberta Ballet, making prank calls, even winning a gold medal at the New York Festivals International Radio Competition with his Power 92 partner, Audie Lynds, in 1992.
What's even funnier is the fact that Christie needed a bit of maternal prodding to apply for his first gig at Montreal's CFOX.
As a teen, he always knew he wanted to be a DJ, but like most budding public personalities, he was incredibly shy.
"I would spend hours in my basement," he says. "I would rig up a microphone, hang it from the ceiling and then I started doing different voices. I even created a radio station with call letters and all -- we were CMIF, after Mission: Impossible. I talked a high- school buddy into doing it and I would correct him. One weekend, we did 48 straight hours of this and we taped everything. We called it a radiothon. I remember my mom would come in at , 'Are you boys still up?' And I'd say, 'Sssh. He's on the air!' "
After nearly two decades as one of the city's top-rated DJs, Christie was wooed by a Toronto station, Mix 99, and left Edmonton in 1994, following a tearful farewell broadcast at the Hard Rock Cafe. He ended up pinballing between T.O. and Vancouver over the next 11 years until the grand wizard known as Edmonton lured him back with its charms.
Actually, it was a call from station manager Susan Reade, formerly known as CHED personality Janet From Another Planet.
"I never thought I'd move back to Edmonton, to be honest," smiles Christie. "She was very persuasive about this company."
At Magic, he doesn't run the risk of being slapped with any more public mischief charges. (The result of his little assassination stunt at 630 CHED in the '70s. Oops.) He won't be making any goofy calls nor will he try to give away $25,000 to win the fickle affections of listeners. (The station doesn't do contests.)
Instead, Christie chats about politics, wine, movies and Edmonton during his four-hour weekday morning show. His former Power 92 and CHED listeners are older now and so is the morning man.
"I don't feel like I'm passe or taking the exit freeway," he says. "What I didn't want to be doing at this point in my career is playing old top-40 music. I still want to be cutting edge. For me, this was the right thing at the right time. My wife says I've been blessed -- call it Christie luck. Here's this refreshing format and great company. Who knew it would be out of Edmonton?"
Sandra Sperounes.  Edmonton Journal. Edmonton, Alta.: Mar 4, 2006
****
Radio farewells go on forever. Just consider Wally Crouter's months of leave-taking from CFRB. Consider, too, Peter Gzowski's recent farewell tour, which has been over-shadowing the Pope's - either Karol Wojtyla's or Carole's.
But this is a short stroll down easy street compared with being the Big New Voice in a big new town - and making it seem as if it has been there forever.
Just ask Rob Christie, The Mix's morning mouth on 99.9 FM.
By any criteria, Christie is a hit - at least, last week's ratings say he's a hit.
In the 2 1/2 years since he was imported from Edmonton's Power 92, where he was a morning fixture for 14 years, The Mix morning show has been narrowing the lead held by such morning heavy-hitters as Roger, Rick & Marilyn at CHUM-FM and Don Daynard and Erin Davis at CHFI-FM.
After bouncing from concept to concept through four different morning shows in the four years before Christie arrived, The Mix now figures it has a formula that works, particularly the way Christie works with sports guy Bruce Barker and Maureen Holloway, the traffic/weather-person who has emerged as the Queen Of Snide.
Other sets of figures look pretty good, too, like the one that says Christie reaches almost 284,000 people a week, up nearly 80,000 from when he started. But ratings are one thing and feel is another. Christie knows how to go after the numbers and makes no bones about wanting the big-time.
He's 46 and he still figures he has a shot at New York radio some day. Maybe the big Apple remembers him from 1992, when he won an award for best comedy personality at the annual International Radio Festival, or from 1994, when he won bronze.
Around Standard Broadcasting, Christie is known as something of a workaholic. Up by weekdays, he has watched CNN and Newsworld, read the papers, sampled what's coming off the wire services and fast-forwarded through his VCR tape of Jay Leno or David Letterman from the night before - all to prep for the kick-off of the show that rolls along (and sometimes rocks) until
Yet it's not all there, Christie feels. He hasn't ``bonded'' with Toronto the way he wants to; he's still learning the city and and he knows it's still learning him.
On TV, when a new pre-packaged celeb arrives, it's as if a new neighbor moved in next door.With radio, it's as if the new neighbor moved into your spare room.
Even so, there's a lot to learn about Christie. One thing is that he doesn't act on air like a guy who uses the word ``bonded'' a lot. On air, he can be a bit of a goof. In person, he's anything but.
Rather, he comes across as almost aggressively bright, a McGill University grad (1971) who has a decent wine cellar and a penchant for orderly thinking.
In trying to explain how emotion works on radio, he told me that ``radio is not rocket science, but it is heart surgery.''
He stopped to stare a second or two into the glass of crisp Orvietto we were drinking, editing his thinking, making the line crisper.
``No,'' he said, ditching the space reference. ``Radio is not brain surgery, but it is heart surgery.''
That's only the beginning of what the city doesn't know about him.
For Rob Lowe, as he was called when he was born near Montreal, is thoroughly bilingual. The more you talk to him, the more you realize he has as much French Canada in his soul as he does English Canada.
In fact, he and wife Diane - they've been married 20 years - often speak French at home (she's from an Alberta francophone community).
Christie is careful about how much of this he allows himself to reveal. Yet, for as guarded a guy as he can be, he has a passion for getting his listeners to reveal themselves.
But is Toronto ready for it? Does it want to hear a bit of real French with its french toast?
Christie is surprised by the city's conservatism. After stints in Sydney, N.S. (``the gateway to rust''), Calgary and Edmonton, he figured T.O. would be wide-open and swinging.
Instead, he has found it to be in a mad rush for more and more business.
``I'm always looking to educate myself on this city,'' he says, ``on its people and how they think. What are their hot buttons. What are their taboos? What really jazzes them?''
In turn, he wants the city to discover him. Maybe radio is a matter of focus groups, research figures and print-outs, but it all comes down to personality.
Crouter proved that. Gzowski, too.
``Who do you gravitate to when you go to a party?'' asks Christie.
``An interesting person.''
Peter Goddard Toronto Star.  Toronto Star. Toronto, Ont.: Jun 7, 1997