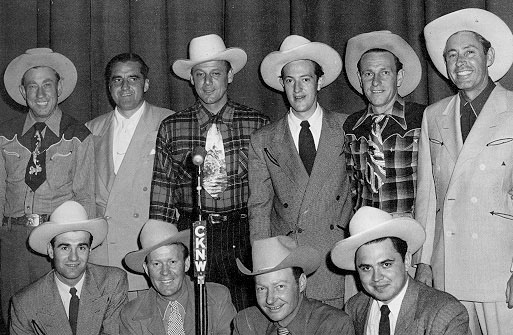 The Rhythm Pals

Pictured here (top picture) with the Sons of Pioneers, are Marc Wald, front row left, Mike Ferbey front row right and Jack Jensen, back row forth from the left.
And that's CKNW owner Bill Rea back row second from the left.
Country trio The Rhythm Pals, whose career spanned six decades, came together in New Westminster, British Columbia, in 1946.
Although accordionist and baritone Marc Wald (born in Bismarck, North Dakota, and raised in Wilkie, Saskatchewan), bassist and tenor Mike Ferbey (of Saskatoon) and guitarist and tenor Jack Jensen (of Prince Rupert) got their start on the CKNW radio show "Bill Rea's Roundup", Wald and Ferbey had already toured western Canada during the late '30's with Sleepy and Swede and the Tumbleweeds.
Bill Rea's show on  CKNW led to regular gigs on CBC Radio and, in 1948, a performance on American television with Spade Cooley, making them one of the first Canadian acts to appear on TV south of the border. Throughout the '50's, '60's and '70's they had their own CBC Radio shows, "Swing Easy" and "The Burns Chuckwagon Show", were regulars on Tommy Hunter's radio and television programs, continually toured North America with acts like Hunter and Wilf Carter and made occasional trips overseas (Marc Wald's site claims they played the North Pole), and won Juno Awards for best country group in 1965, '67 and '68.
Wald retired from the group in 1987, but Ferby and Jensen kept the act going until 1991, a full 45 years after The Rhythm Pals' first performance.
Jack Jensen was awarded The Order Of British Columbia in 2005.
***
The Rhythm Pals
Bluebird on my Windowsill - 1948
Inspired by a bird perched on the windowsill of a Vancouver hospital, nurse Elizabeth Clarke wrote Bluebird On My Windowsill. Although recorded by several artists, becoming a major hit for Doris Day in 1949, its first recording was by Mike, Marc and Jack, The Rhythm Pals, on the New Westminster, B.C., radio station CKNW in 1948.
For over four decades, The Rhythm Pals were one of Canada's premier country vocal groups, performing regularly and winning several Juno Awards. Besides Bluebird, other songs written by Canadians but made popular by U.S. artists have been vintage chart-toppers such as When My Baby SmilesAt Me, K-K-K-Katy, I'll Never Smile Again, When You And I Were Young, Maggie, and Tumbling Tumbleweeds.
The Rhythm Pals, from B.C., became one of Canada's premier
country vocal groups in the 1940s and 50s. The group was the
first to record Bluebird On My Windowsill.
[Toronto Star]