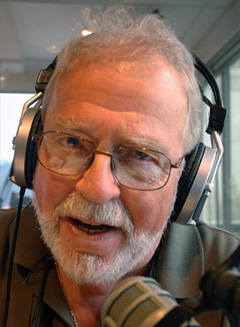 Rafe Mair
Photo courtesy of the TYEE
August 2, 2005
---
Back in early June I interviewed Brian Frosty Forst. It was good fun. I've wanted to comment on this but one thing after another seemed to turn up. This past weekend I had a chance to ponder some of the things Brian brought to mind. I worked with him at Brand X for 19 years and in large measure owed my consistent high ratings to that fact that I followed him. I found it fascinating to get Brian's take on radio past, radio present and radio future.

Most of us look back – at least when you get to a certain age – and see things as being much better then than now. Except in the case of radio that's in fact true and it's because radio was much different because it responded to the audiences of the day. While I have been in the business much less time than Brian, I too was a radio junkie when I was a kid. I listened to the predecessor of this station, CJOR, and idolized the GG man, he kept changing his real name, Ross Mortimer, and Alan Roughton and his British Empire Show. Sometimes I also listened to CKWX which then was on CKNW's frequency, 980. (NW started as 1230 on the dial in 1944 and switched five years later to 1320 – in 1958 it became NW98).
Before Frosty's time, Monty MacFarlane and Bob Hutton used to duke it out. Monty was one of the funniest men in the business especially since he had to be funny without being able to see and respond to an audience.

The great talk show hosts came in the 60s and we had the greatest of them all, Jack Webster … and there was Pat Burns. Ed Murphy, Barrie Clark, Gary Bannerman and, for awhile, former Liberal Cabinet Minister Judy Lamarsh and again, for awhile Jack Wasserman. They reigned, I think, for two reasons. TV had not become so dominant plus the fact that we were all a bit parochial back then. Hookers, Bootleggers, a cop on the take, a murder trial … that sort of thing commanded our attention. Jack Webster got his start as a newspaper reporter covering a hearing into the activities of a Police Chief named Walter Mulligan. When the commissioner, Lawyer Reg Tupper wouldn't allow tape recorders into the hearing Jack took down the evidence in shorthand then phoned it into CJOR I believe and attracted a huge audience.

The arrival of rock and roll and FM brought a revolution in music stations and so-called disk jockeys on AM had to become performers as well as record spinners – thus Frosty Forst, Fred Latrimouille and a host of others. The great survivor of all change in musical tastes was, of course, Red Robinson.

By the time I arrived in the scene people's interests had expanded considerably – at least that's how I saw it and played it. It wasn't just Vancouver and Victoria any more … it was Ottawa, London, Viet Nam and Washington. It was a great time to do what I did … indeed it's still a great time but as Frosty said, things are a-changing. Frosty is quite right that music stations are not just competing with other stations, they're fighting the kids ability to download and burn CDs. The "star" as an individual doing his thing is on the way out. Standardized presentations on a wide network are in. A company like Corus will do their own form of down sizing by using one program for many stations around North America … I think "all news" stations like CKWX will do well as will niche stations like this one that can corner a market which while smallish, stays loyal and dependable so the station is not selling rating numbers as much as demographics.

I look at my own career and am amazed at what I'm now doing. If I were starting today I probably would be a freelancer, perhaps doing regular editorial on a radio network, doing regular TV gigs and writing. I mention TV because it's changed in my area of expertise as well. Editorials don't do as well as they once did but bringing people of different political persuasions, perhaps two or three at a time, to a panel discussion suits two criteria. First it's cheaper to pay a freelancer once in awhile than to have people under contract. Secondly, it allows a station to present a sort of balance so that people of all political stripes will find it interesting.

I am, as you can tell, just rambling here so let me close with this … I think there will be a return to locally focused radio the sense that there will be programs, perhaps stations that aim for those who like local issues to be covered. In fact this is what Cable TV does and it's surprisingly popular. I'm always surprised after I've done Shaw Cable with Art Jones how many people tell me they saw me on TV.

Whatever happens to radio it will be different – but it will always be with us. As consumers we will no doubt make different demands but as long as you can't watch TV in your car or office, and want something other than canned music, you'll demand that your radio entertains you. The trick will be as it always was for management – what do people want and how do we deliver it?

The finding of that answer will require experience, ingenuity and flexibility. Who meets that challenge will profit … so will the audience.
***
Rafe Mair (b. December 31, 1931) is a political commentator and former radio personality and politician in British Columbia, Canada.
Mair was born in Vancouver, BC where he worked as a lawyer for many years.
His political career began in 1975, when he was elected as a Member of the Legislative Assembly (MLA) of the British Columbia Social Credit Party representing the riding of Kamloops. He held that seat until retiring from politics in 1981; the seat was taken over by Claude Richmond. Mair served as a cabinet minister in the government of Premier Bill Bennett under a variety of portfolios including health and education. During the patriation of the Constitution of Canada, he was BC's chief delegate on constitutional matters.
In 1981, he left government and has since served as a radio talk show host in Vancouver. In the early 1990s, he gained national notoriety and support alike for his role as an outspoken opponent of both the Meech Lake and Charlottetown constitutional accords.
Despite high ratings, his show was cancelled by CKNW in 2003, and he was subsequently hired at 600 AM, an oldies station, to start a morning talk show. This job ended in late 2005, but he plans to continue his career elsewhere. He remains active as a regular columnist for a chain of community newspapers and the online magazine The Tyee.
He is an avid fisherman and he has become an outspoken critic of salmon farming in BC. This often puts him at odds with former political colleagues and makes him allies with former political enemies such as the New Democratic Party of British Columbia.
Although he has traditionally been considered a political conservative, Mair's views have always been moderate on certain issues, notably the environment and social welfare. Disillusioned with the three mainstream Canadian parties, he has lately become a significant supporter of the Green Party urging people to vote for them in recent federal and provincial elections.