<![if !vml]>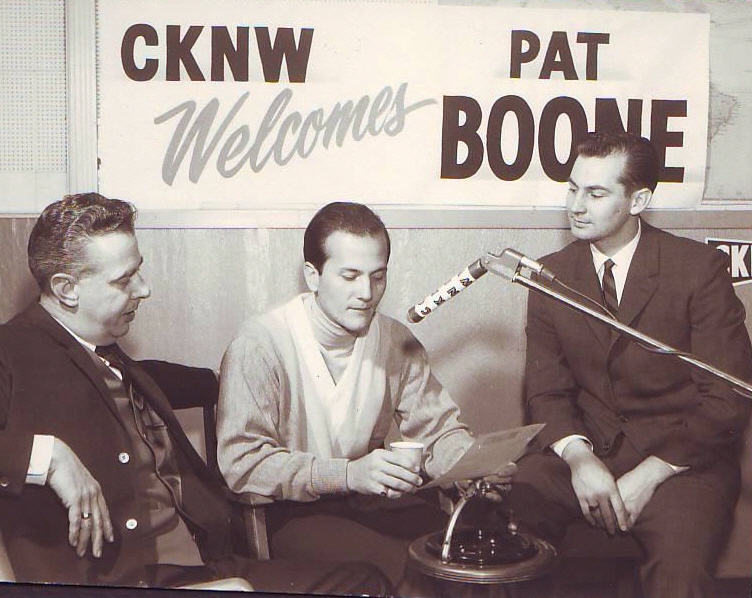 <![endif]>

Norm Grohmann on right of Boone – early sixties
January 1/61 Norm Grohmann joins CKNW
He got into radio at CHWK in Chilliwack in the 1950s. For four decades he cut a goofy swath through local radio in a range of voices, culminating in a daily bit with NW's morning man, Brian Forst, where he played a vast variety of people—none of them normal, all of them loud and funny—discussing the weather. BCTV asked him to do the same, and viewers loved him. He stayed 25 years.
Then Grohmann—born August 13, 1935 in Vermilion, Alberta—made a career switch into acting on stage. He was a hit (singing!) as Fagin in the Royal City Musical Theatre version of Oliver!, another hit in Sylvia, and keeps returning to the Arts Club Theatre as fussy, neurotic Felix Unger in The Odd Couple. He was recently in the cast of The Music Man as Mayor George Shinn.
Norm Grohmann - CHWK Chilliwack 1954-57; CKWX Vancouver 1957-59; CKLG Vancouver 1959-61; CKNW Vancouver 1961-99; CBC Vancouver Dr. Bundolo's Pandemonium Medicine Show 1970-82; BCTV Vancouver weatherman 1970-79 & 1983-98; actor including Royal City Musical Theatre Company production Sound of Music 2003 and The Music Man 2005
***
When people think of Norm Grohmann, they first think of the witty weatherman who entertained us for years on BCTV (now Global.)
Adept at radio, television and theatre, Grohmann began his career in 1954 with CHWK radio in Chilliwack. From there, he moved to Vancouver as a Top 40 rock and roll DJ for CKWX, followed by 30 years at CKNW with its more middle-of-the-road format.
In 1964 he acted as the main control room host for coverage of the Beatles at Empire Stadium. It was Grohmann's job to coordinate reports from Jack Webster, Sun columnist Jack Wasserman and deejay Jack Cullen who were at the concert.
Grohmann thrived in an age of personality radio. He was able to find humour in the strangest places and created many different characters when appearing on the Frosty Forst morning show. At one point in his career, he joined the cast of the CBC radio series Doctor Bundolo's Pandemonium Medicine Show, replacing Steve Woodman. This 1974 network show originated in Vancouver and featured comic actor Bill Reiter as one of the co-stars. The two also appeared together on many commercials during this time.
As an actor and singer, Grohmann has had roles in many musicals and plays including The Sound of Music and The Music Man. One of his outstanding appearances was as Felix opposite Miles Ramsay's Oscar in Neil Simon's classic comedy The Odd Couple. Grohmann appeared in this play on three different occasions to rave reviews.
Grohmann has also dedicated himself to the community with many charitable organizations, and many of us remember his decades of appearances on the Variety Telethon. A few years ago, when diagnosed with prostate cancer, he decided to go public with his disease and continues to this day as a spokesman for cancer-fighting causes. He is honorary chair of the annual Do It For Dad Run in aid of the Canadian Cancer Network.
At a recent get-together of radio professionals at the Westin Bayshore, Norm was honored for his dedication to broadcasting and to his community. The next week he was inducted into the B.C. Entertainment Hall of Fame.
His old friend Bill Reiter summed him up beautifully when he said, "I don't think Norm knows how good he is."
***
Oct 9, 2994
"It's just a really dramatic sign that you're not going to live forever," said Norm Grohmann
Grohmann, 69, now lives in Vancouver, and still feels a connection to the place where he grew up and lived as an adult for many years in the 1970s and '80s. These days, he can still be seen around Maple Ridge and Pitt Meadows on occasion golfing or visiting friends. Last year he was out for his 50th high school reunion.
Decades ago, Norm Grohmann quit his job at a Woodward's food floor when the assistant manager chastised him for talking to a co- worker.
He's always been willing to put in a fair day's work, he said, but he also wants to enjoy doing it.
That philosophy has served the former Maple Ridge resident well in his 50-year career as a broadcaster, actor and public speaker. It was reinforced four years ago, when he battled and conquered prostate cancer.
"It's just a really dramatic sign that you're not going to live forever."
"If you've got things you want to do - whatever it is, whether it's travel or painting that back fence - you'd better get around to doing it because all of a sudden you wake up and you're 10 years older..."
It's like that old song Enjoy yourself (It's later than you think), he said. He makes a point of filling his life with things that he enjoys, including acting, volunteer work, spending time with his wife Betty, golf, travel and emcee jobs.
"The whole thing is, I am in charge of my life. If at the end of the day or at the end of the week I am miserable, then I am responsible for it."
Grohmann said he usually starts off his emcee gigs with a joke about himself to loosen up the audience. It's important to have fun at these events, but also to know where to draw the line, he said. "People like to loosen up and laugh, in a tasteful way."
Other than that, Grohmann said he tends to be a bit of a free wheeler as an emcee and doesn't usually have a long speech to read. But that doesn't mean he won't be prepared. Knowing your subject well is the key to being more genuine and less forced when public speaking, he said.
Grohmann has had a long time to hone his presentation skills. He was fresh out of high school when he got his first job in radio at CHWK in Chilliwack in 1954.
He and his family had moved to Hammond when he was six months old, and he graduated from Maple Ridge High in 1953 - the year it burned down. "Don't try to make a connection."
That first CHWK gig lasted until 1957, followed by CKLG from 1959 to 1961, CKNW from 1961 to 1999, CBC's Dr. Bundolo's Pandemonium Medicine Show from 1970 to 1982 and BCTV as a weatherman from 1970 to 1979 and 1983 to 1998.
His stint at BCTV is perhaps his most remembered job, and Grohmann doesn't mind that a bit. "It's a compliment. They remember me favourably."