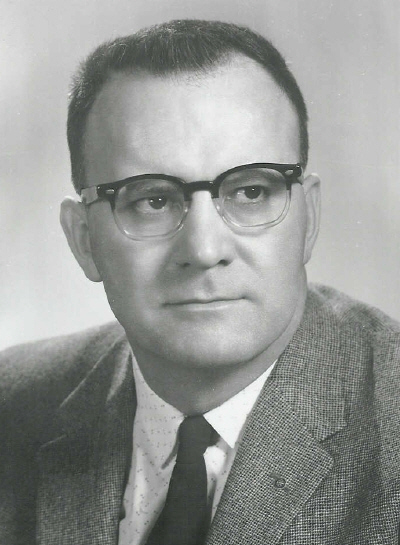 Maurice Finnerty
BIRTH: 19 Jul 1913, Fort Francis, Ontario
DEATH: 11 Jun 1977, Penticton, BC
Father: Patrick FINNERTY
Mother: Clara COLLINS
Wife Lesley Merle ARMSTRONG
At the conclusion of WW2, Maurice Patrick Finnerty moved from New Westminster to the Okanagan Valley and entered the insurance business. He and Grev Rowland, publisher of the Herald persuaded shareholders of CKOK Ltd. to become a public company and bought the shares for ownership in 1950.
Maurice Finnerty was a MLA for the South Okanagan area being elected in 1949. He was the mayor in Penticton 1962 to 1967. He died suddenly at home June 11, 1977 at the age of 63.
Penticton's 17th Mayor
Maurice P. Finnerty (1962-1967):
A former Liberal MLA, Finnerty believed that people should not stay in public office indefinitely. "Any head of government should have a goal, make his contribution and then get out," he once said. "The longer you are in office, the more you become immune to fresh ideas." The owner of CKOK Radio at the time, Finnerty saw construction of a new City Hall and a new Convention Centre during his tenure as Mayor.
MONDAY, JUNE 13, 1977
MR. SPEAKER: Hon. members, I've been asked to bring to the attention of all members of this House the death of a former member who occupied a seat in this House and served as a member of the 22nd parliament, sitting in the Liberal benches from 1950 to 1952. I refer to Maurice Patrick Finnerty from the city of Penticton, who passed away Saturday, June 11. Funeral services for this late member of the Legislature will be held June 15,1977.
Mr. Finnerty was a former mayor of the city of Penticton and a freeman of the city.
I'm sure that all the hon. members of the Legislature would like to send a note expressing our concern and regret to the family. If it's the desire of the Legislature I will see that such goes forth on our behalf. Thank you, hon. members.