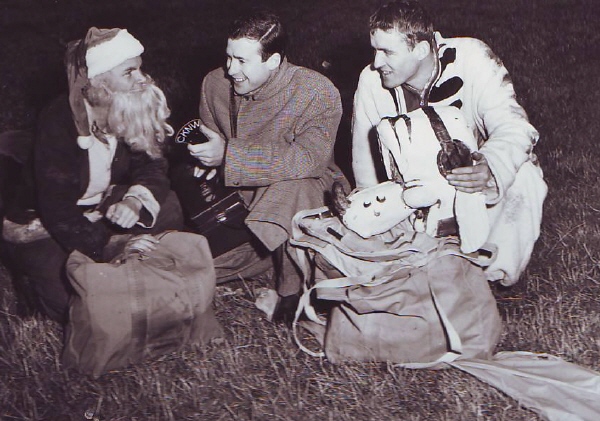 above photograph from CKNW circa 1955.
.
.
Mauri Hesketh (in his own words)
.
.
OCT. 1952 - With letter of reference from Bill Hughes(then salesman at CKNW) toured B.C. interior radio stations by Grehound bus. Going through Chilliwack, spotted CHWK sign on the main street so got off the bus and was interviewed by Murdo McLachlan; hired to start in October doing everything including d.j. work, news, sports and emptying garbage cans.
MARCH 1953 - Even though making only $50 a month, married high school sweetheart Lenny Parkman.
OCT. 1953 - Hired by CKOK, Penticton as d.j., librarian and sometime newscaster. Made money on the side by sending stories to CKNW.
.
above picture CKNW reunion of Mauri's contemporaries
.
APRIL, 1956 - Hired by CKNW, New Westminster, all-night d.j. and part-time news under News Director Jim Cox, made $75 a month.
1973 - Transferred to CKNW's talk show "The Investigators" but returned to 'NW newsroom in 1975.
MARCH, 1976 - Left CKNW after 20 years to become News Director at CJJC, Langley.
MARCH, 1977 - Hired by CJOR, Vancouver to work in news and later became News Director.
MAY, 1981 - Hired as News Director of CKOV, Kelowna but was unable to sell house in Surrey.
SEPT. 1981 - Hired as journalism instructor at B.C. institute of Technology, later becoming Program Head of the Broadcast Journalism Department. Contrary to earlier bio, Peter Munoz and Mauri Hesketh were not instrumental in establishing the journalism program at B.C.I.T. If anybody should get credit it is Barry McMaster.
SEPT. 1986 - After 5 enjoyable years, decided to retire at age 55 even though I didn't qualify for any pension plans.