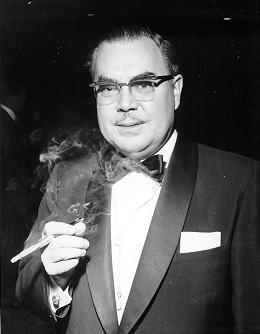 Mart Kenney
Mart Kenney - Broadcast pioneer/orchestra leader/Canada's Big Band King; saxophonist Vancouver 1928; radio debut Alexandra Ballroom CJOR Vancouver 1934; composed We're Proud of Canada 1940; based in Ontario 1940s-69; Rocky Mountain Melody Time CRCV/CBR Vancouver 1934-37; Sweet and Low CRCV 1935; relocated to Toronto 1940 and picked up by NBC Blue Network and BBC UK 1940s; operated dance hall Mart Kenney's Ranch near Woodbridge ON 1940s-69; moved to Mission BC 1969 and organized In the Mood CBC-TV 1971; named to Order of Canada 1980; March 12th, 2000 designated as Mart Kenney Day in Vancouver. Died in Mission BC February 8, 2005 at age 95.

Original Biography

Herbert Martin Kenney (Mar 7, 1910-Feb 8, 2006) Mart Kenney can look to CJOR for the start of his great career. "Canada's Big Band King", alto and baritone saxophonist and clarinetist Mart Kenney began his career in 1928 with the CJOR Radio Orchestra. The studios of CJOR were located just above the Alexandra Ballroom at Hornby and Robson in 1930.
His band the "Mart Kenney Orchestra" - was formed in 1931. The founding five - Kenney, the trumpeter-pianist Glen Griffiths, the trumpeter Jack Hemming, the saxophonist Bert Lister, and the bassist Hec MacCallum - were joined later in 1931 by the drummer Ed Emel and in 1932 by the vocalist-saxophonist-pianist Art Hallman.

The band of seven made its radio debut in January 1934 on CJOR from the Alexandra Ballroom. Then for three seasons it appeared at the Waterton-Glacier International Peace Park in Alberta. At the Pavilion - the name 'Mart Kenney and His Western Gentlemen' was first used. The band made its first coast to coast radio performance in 1934 with the program 'Rocky Mountain Melody Time,' taking the 1922 waltz hit 'The West, a Nest and You, Dear' as its theme song. This was broadcast over the newly created Canadian Radio Broadcast Commission (CRBC).
From 1934 through 1937 the band performed a succession of dates at CPR Hotels nationwide including stints at the Hotel Vancouver where the CRBC/CBC show 'Sweet And Low' began in 1935; and a summer tour of eastern Canada which led them to the first of many appearances at Toronto's Royal York Hotel.

Kenney grew up in Vancouver, where he started violin lessons when he was seven. With money he made delivering The Province/Vancouver Sun he bought parts and built a radio - which brought him the big-band sounds from California.
At 15 he bought his first sax from Rolands Music Shop - $5 down and $5 a month. Later he took a job selling typewriters. At 18 he was offered good money to play first sax in a dance band, and it was goodbye, Underwood. He played nights at the Bellmont Cabaret and taught sax during the day. Later in life he settled in Mission but has fond memories of the valley. "We came through Chilliwack on our very first tour and it was a disaster! Nobody came because nobody knew about us yet! Of course, things improved a lot after that and we've played many successful dates in the Fraser Valley.
He recalls when he "discovered" Bobby Gimby - in the 1940's, the young trumpeter jumped on stage and sat in with the "Western Gentleman" in Chilliwack.

He was awarded the Order of Canada, Order of BC, several university degrees but most important to him, Kenney was honored by the Toronto Musicians' Association with the "Musician of Distinction" Award in 1993 and then inducted into British Columbia's Entertainment Hall of Fame.
***
MART KENNEY, BANDLEADER 1910-2006
There's probably nobody alive who remembers why Mart Kenney called his band the Western Gentlemen back in 1931, but the name proved an apt description of the man, says Juliette Cavazzi. "Of all the bandleaders I have worked with, he was the kindest and the fairest with his musicians. He was a lovely gentleman, who was very accommodating to everyone who worked for him," she said. "He was also very much loved" by audiences in Vancouver. "He played every summer at the PNE [Pacific National Exhibition] and he packed the halls with people who came to hear his band."
The blond singer, known as "our pet Juliette" to generations of Canadians who watched her popular CBC television show on Saturday nights after the hockey game, auditioned for Mr. Kenney at the Hotel Vancouver in 1940 when she was 13 years old, and last sang with him about a decade ago. His sound was "sweet and gentle" and his was definitely a good "swing" band to dance to, she said from her home in Vancouver yesterday.
Among the other well-known musicians who played with Mr. Kenney in a career that spanned more than 70 years were Bobby Gimby, Wally Koster and Rob McConnell. Mr. Kenney's theme song was The West, a Nest and You, Dear, a song composed by Billy Hill and Larry Yoell that was published in 1922.
Martin (Mart) Kenney was born at his grandparents' house in Tweed, Ont., when Sir Wilfrid Laurier was prime minister. Apparently his parents, Herbert Kenney and Mildred Agnes Martin, married secretly when she was 17 and still living at home. As Mr. Kenney told the story in his 1981 autobiography, Mart Kenney and his Western Gentlemen, the Bank of Montreal, which employed his father, refused to allow male staff members to marry until they were making an acceptable salary. When little Martin was a year old, his grandfather, a merchant in Tweed, moved Martin's family to Vancouver and built a large house for them in Shaughnessy Heights.
His mother found a job with Western Union and finally divorced her husband in 1922, when Mart was 12. Even then he was listening to late-night radio, hearing Henry Halstead and his Orchestra playing from the St. Francis Hotel in San Francisco. That's how he heard the saxophone for the first time, a sound he found "very intriguing."
The other early musical influence came from his mother's sister Sara, a concert pianist and piano teacher who practised on the Gerhard Heintzman upright in the living room of the spacious family home. He never forgot "the sounds of Bach and Mozart and all the great composers," but he had already lost his soul to the sax.
After finding a used alto sax for sale, he put down $5 from his paper-route earnings and arranged to have lessons from Charlie Williams, the lead trumpet player with Calvin Winter and the Capitolians. By the mid-1920s, Mart was playing with his school band, the McGee High Orchestra, and at a few parties with his friends Malcolm Pretty, who played piano, and John Crysdale, a drummer. They knew only four songs, including If You Knew Susie, Don't Bring Lulu and I'll See You in My Dreams, but nobody seemed to mind.
Vancouver had a lively musical scene in the 1920s and Mart found it much more interesting to listen to groups such as the Canary Cottage Orchestra than to study. He quit school in 1927 and found a job with the Underwood Typewriter company at a starting wage of $9 a week. A year later, Len Chamberlain offered him a regular spot with his band at the Hotel Vancouver (at the southwest corner of Granville and Georgia streets) for $50 a week and his professional musical career was launched. He was 18.
He spent the rest of the 1920s playing and teaching saxophone. By 1929, he had 60 pupils and was playing every night at The Belmont Cabaret, giving him a total weekly income of $125. A year later he accepted a job with Conn Vancouver Ltd. as a travelling musical-instrument salesman and music teacher based in Regina. What clinched the deal was the offer of a regular gig at the Hotel Saskatchewan, playing lead alto sax two nights a week for El Jay's Orchestra. On Dec. 2, 1930, he married Rosetta (Etty) Smillie in Regina. They had two sons, Robert Martin, in 1932, and John Herbert (Jack) in 1935, before Etta died of peritonitis in 1936. He subsequently married her sister, Madge, but they divorced in the early 1950s.
The Depression blew the bottom out of the musical-instrument business and Mr. Kenney and his first wife found themselves back in Vancouver a year after they had headed to the Prairies. He reconnected with bandleader Len Chamberlain and through him met Ollie (Mac) MacInnes, manager of the Alexandra Ballroom. Mr. MacInnes invited him to put together a band and that is how Mart Kenney and His Western Gentlemen got their start.
Instead of poaching top talent from other bands, he decided to choose younger players who were prepared to work together as a team to develop a distinctive sound. The number of Gentlemen varied over the years, but the nucleus of the band comprised Bert Lister on banjo, Jack Hemmings on trumpet, Ed Emel on drums and Mr. Kenney on alto sax.
They debuted at Alexandra Ballroom on Jan. 27, 1931, each player earning $17 a week with Mr. Kenney earning an additional $6 as the leader. Bass player Hector (Hec) McCallum became the fifth of the Gentlemen, trumpeter and pianist Glen Griffith joined in December, 1931, and vocalist and clarinetist Art Hallman signed on in September, 1932. They quickly became known for doubling (playing more than one instrument) and cross-country barnstorming, initially in British Columbia in the early days of the Depression and then farther east, playing at such prestigious hotels as Chateau Lake Louise, Hotel Saskatchewan, Banff Springs, the Brant Inn and Toronto's Royal York.
In the mid-1930s, Horace Stovin created a half-hour Sunday afternoon program of popular music called Sweet and Low, which was recorded in Vancouver and fed to the national radio network. It featured Mr. Kenney and his Gentlemen. As a result of this national audience, they became the first Canadian band to broadcast on NBC and international radio networks and to record for RCA Victor.
From February, 1943, until December, 1944, the Kenney band played twice a week on CBC Radio on a program called Victory Parade of Canada's Spotlight Band. It was broadcast from army, navy and air force bases and commercial establishments from Tickle Cove, Nfld., to Tofino, B.C. The band travelled in a private railway coach, thanks to Coca Cola Co. of Canada, which sponsored the program, and entertained some 400,000 war workers and men and women in the armed services.
The band had a number of female vocalists, including Eleanor Bartelle, Georgia Dey, Beryl Bodenne, Judy Richards, Veronica Foster and Norma Locke. Born in Ottawa, Ms. Locke was singing at her annual high-school concert in 1940 when she was spotted by CBC Radio broadcaster Byng Whitteker. He booked her for a series of performances on the CBC. Mr. Kenney, who was recuperating from viral pneumonia, heard her singing on the radio and invited her to lunch. She began a long career as lead vocalist with the band in 1944. They married six years later and eventually had one child, Lisa. The third Mrs. Kenney died in September, 1990.
In 1946, Mr. Kenney composed the song We're Proud of Canada, and updated the lyrics a few years ago to include references to national unity. Also in 1946, he opened The Ranch, an open-air nightclub near Woodbridge, Ont., that became a favourite Saturday-night dance haunt for Toronto couples.
He retired in 1968 but fans persuaded him to return to the bandstand. He specialized in conventions and club dates in the Vancouver area. The Mart Kenney Big Band was featured at Expo '86 for the Air Canada 50th anniversary celebrations, and played such venues as the Canadian National Exhibition and the Pacific National Exhibition. Mr. Kenney was awarded the Queen's Silver Jubilee Medal, named to the Order of Canada and inducted into the Canadian Association of Broadcasters Hall of Fame. As recently as 2000, he produced a CD that included two new Kenney compositions.
In the past few years, he suffered from Alzheimer's disease and vascular dementia. After a bad fall nearly two years ago, he moved into a retirement home in Mission, B.C.
Martin Kenney was born on March 7, 1910, in Tweed, Ont. He died on Wednesday in Mission, B.C., from complications after fracturing his hip last Friday. He was 95. He is survived by three children, four grandchildren, four great-grandchildren and two half-siblings and their families.
SANDRA MARTIN Toronto's Globe and Mail – 2006
***
Herbert Martin (Mart) Kenney, C.M., Lld., DLit, passed away February 8, 2006, in his 96th year at the Mission Extended Care Unit, Mission, B.C., due to complications from a fractured hip. Born March 7, 1910 in Toronto, Ontario, he was predeceased by his parents, one brother, and his beloved wife, Norma Locke Kenney.
Often referred to as one of Canada's national treasures, he was passionately loyal to his country, province and community both as a professional musician and as a volunteer. He received many accolades and awards, including the highest federal and provincial civilian honours, the Order of Canada and the Order of British Columbia. He was deeply honoured to preside over Mission's first Canadian Citizenship ceremony just after his 90th birthday.
He was a positive and important influence in the lives of many people. His achievements and humanitarian contributions are a legacy for all Canadians.
|