Jurgen Gothe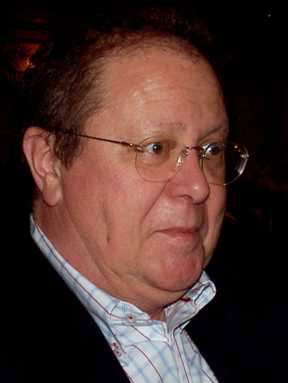 Jurgen Gothe - (Earlier spelled Goethe) Copy writer then on air CHQM/CHQM-FM Vancouver 1970s-1980s; DiscDrive host CBC Radio Two National Vancouver 1986-current; author/food, wine and music writer/Vancouver restaurant critic; wine columnist Uncorked Georgia Straight Vancouver current; food and wine editor NUVO Magazine Vancouver current; Vancouver Flavors feature CKBD Vancouver current.
above supplied by http://www.vancouverbroadcasters.com/
***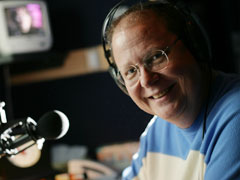 The following is a CBC supplied Biography
Jurgen Gothe is one of Canada's most widely heard and read media personalities, as well as one of the country's foremost commentators on food and drink. He explores wine and spirits, food and restaurants, music and leisure in all major media, nationally and internationally.

He is best known to a vast number of Canadians (plus even more American listeners who tune in regularly, along the 49th Parallel) for his award-winning afternoon drive-home program, DiscDrive, now in its 19th consecutive year, on CBC Radio Two. DiscDrive is heard coast to coast every weekday, from 15:06 to 18:00 EST. He remains the Network's only two-time gold medal winning host, with awards from the New York International Radio Festival.

He has spent three full seasons as co-host of Serdy Video's national food and wine television show, Simply Wine & Cheese, becoming the food consultant and co-host for a new series, A Taste of Home, seen on CTV and Global TV in all major Canadian cities. His challenge was to create original recipes in each episode, based on regional cooking styles and ingredients.

He then wrote the first season of 13 episodes of the Alliance Atlantis/Food Network production, "New Classics with chef Rob Feenie" that aired to national acclaim.

Jurgen Gothe has been frequently featured in Western Living Magazine (where his creation, The True North Chili has sparked a chili cook-off as part of Eat! Vancouver, in the spring of 2003.) For Western Living he continues to provide an annual round-up of gift-set CDs each December.

Carte Blanche was the name of his popular weekly column in The Vancouver Sun, which ran for eight years before he resigned from it to contribute a regular West Coast restaurant column to The Globe & Mail.

More recently, he has taken on the challenges of Food & Wine Editor for Canada's "coffee table" magazine, NUVO; having appeared in every issue since its inception, recently with a 10-page photo-story on his cooking experiences in Tuscany, a major feature on ushering in the new millennium in Tahiti and exploring breakfasts in Hong Kong. He continues to profile leading Canadian chefs in his column The Chef's Table.

Other recent NUVO features have included a look at the first legally available Absinthe in Canada, and "a dozen great little London restaurants none of your friends know about..!"; North America's first all-native winery, Nk'Mip, and the fabulous Pullman Gallery of art deco cocktail collectibles in London. His Traveling Appetites column most recently explored the first all-Arctic foods restaurant in Copenhagen, Jamie Oliver's new "Fifteen" in London and Gabriele Ferron's "all-risotto" restaurant near Verona.

Jurgen Gothe is the wine columnist for Vancouver's Entertainment weekly, The Georgia Straight, where his irreverent views on demystifying wine appear in weekly columns that are frequently syndicated to other Canadian cities. That beat has been expanded to include new beers (Brew of the Week). He is regularly featured in numerous other journals, commenting on his favorite subjects. He can also be heard twice daily, seven days a week, on CKBD 600AM, with his lifestyle capsules Vancouver Flavors.

He is one of the original founding members of Cuisine Canada, the Canadian Culinary Alliance, and a member of IACP, the International Association of Culinary Professionals, with which organization he became, in 2000, the first Canadian journalist to judge in the prestigious Julia Child Cookbook Awards competition.

He has judged food and wine at all levels, all over the world: from the Saanich Country Fair to the Hong Kong International Food Competition; from the Canadian Wine Selection Competition for External Affairs in Ottawa, to the American Cabernet Sauvignon Finals in New York; from the Quady Dessert Competition in Vancouver to the International Restaurant Association's Sangiovese competition in Chicago.

Jurgen Gothe is a founding partner in Lunar Peaks Productions, a film and video company specializing in culinary projects, including Le Bocuse d'Or competition in France and the Culinary Olympics in Berlin. He is also a director of the Vancouver-based communications consultancy DMA Design & Marketing Associates, whose ongoing projects include a broad range of corporate creative endeavors from airline identities to restaurant chains, computer companies, insurance corporations and film studios.

In the summer of 2001, he established a new creative/production group, QGITV, based in Vancouver and affiliated with two production companies, in Montreal and Los Angeles. QGITV's first series, all about aphrodisiac cookery is under option by a leading US network. QGITV's next project is all about country cooking and country music and could see a major superstar back on series television soon.

For many years, he has hosted a May cooking class at the Villa Delia School in Tuscany. A forced hiatus, due to health problems, saw him sit several sessions out, but he returns there to explore the world of the super Tuscans, wine and food, in May 2005.

He makes regular guest appearances---as host, commentator and sometimes charity auctioneer. Past appearances have included the Vancouver Symphony, Victoria Symphony, Toronto Symphony (5-week Beethoven series), Kitchener-Waterloo Symphony, Manitoba Opera Company, Winnipeg Symphony, Banff Writers' Festival, Vancouver Writers' & Readers' Festival, Sechelt Festival of the Written Arts etc. He enjoys addressing groups that range from the University of Toronto Law Faculty graduates, to the B.C. Surgical Society, to the International Mach Shock-wave Symposium, on his favorite subjects: food, wine and music.

Jurgen Gothe finds his writings frequently anthologized; among the books are The Complete Cat Catalog (Workman, New York); The Canadian Book of Humor (Toronto); The Cats of our Lives (Secaucus, NJ); and Reader's Digest's Canada Coast to Coast (Montreal). He has signed with Whitecap Books of Vancouver and Toronto, to deliver several new titles including a humorous wine 'dictionary', and—working title only!—the "all butter, all cream, all sugar" Politically Incorrect Cookbook.

In conjunction with several leading corporate sponsors, as well as NUVO Magazine he is at work on the definitive, totally subjective Vancouver restaurant guide, scheduled for publication in September 2005.

Under his own name he has published four previous books, released three DiscDrive CDs (a fourth is in production) and six video productions. He has recently been profiled in a documentary for Troika Productions of Vancouver, as part of the award winning Pacific Profiles series, and was featured in the millennium issue of Chatelaine Magazine, as one of 12 influential Canadians involved with food, making predictions for the future.