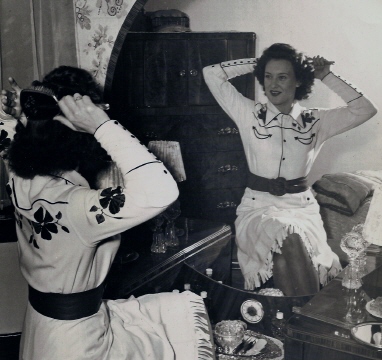 'The girl with a smile in her voice'
Judy Mack (Mabel McKay)
<![if !supportEmptyParas]> <![endif]>
<![if !supportEmptyParas]> <![endif]>
<![if !supportEmptyParas]> <![endif]>
<![if !supportEmptyParas]> <![endif]>
Mabel Beatrice King was born May 3 1918 at Britannia Beach, the daughter of Bertram King and Minnie Bodin. 
<![if !supportEmptyParas]> <![endif]>
Mabel went to school in Britannia Beach and finished her education after the family moved to Vancouver.  She loved to sing and in her late teens began singing in a variety of clubs in Vancouver.  She sang professionally from about 1937 through the early 50's.
<![if !supportEmptyParas]> <![endif]>
In 1939 she met George McKay and later that year they were married.  Mabel King became Mabel McKay (pronounced MC-KI), the songstress.  George had joined the war effort and served overseas with the 4th Princess Louise Dragoon Guards, R.C.A.C. He was killed in Italy September 21, 1943 and is buried in the War Cemetery in Bari, Italy.
<![if !supportEmptyParas]> <![endif]>
At one point early in her career, she entered a contest for a sound alike for Patti Page.  The contest put on by the Orpheum Theatre. She took second place.
<![if !supportEmptyParas]> <![endif]>
Mabel was the featured soloist with Don Williamson and his Orchestra from the early 40's through to the early 50's. Some of the members of Don Williamson's orchestra were Frank Baker, Wally Pool, Ken Carruthers, Brick Baker, Walter Dalton, Percy Baird, Ed Lauck, Ren Williams, Maizie Vokes, Tommy Grenfell and Joe Micelli. 
<![if !supportEmptyParas]> <![endif]>
Newspaper ads bear this out as they read: "Don Williamson and his Orchestra featuring songstress Mabel McKay now playing at the Melody Lane Ballroom at 821 E Pender."
<![if !supportEmptyParas]> <![endif]>
They performed in various ballrooms: Alma Academy, Melody Lane Ballroom, Hotel Vancouver and the Alexandra Ballroom.  Dal Richards took over Stan Patton's Orchestra in 1939 and while I don't know if she ever sang with Dal, she was "friends with" Stan Patton's band members throughout her life.  Members of that band were: Ernie Buchanan, Merv Johnson, Mart Lacy, Frank Weaver, Tommy Mack, Jack Smedley and Byron Hanson. 
<![if !supportEmptyParas]> <![endif]>
The "Burns Chuckwagon" started as a radio show and ran from 1947 to 1950. As a featured soloist of the Chuckwagon show, she played the role of Judy Mack, performing with the Rhythm Pals
(their stage name was the Saddle Lads).  During this time she had the opportunity to sing with Juliette.  "Burns Chuckwagon" toured throughout British Columbia, Alberta, Saskatchewan and Manitoba performing at various events:  Chilliwack Cherry Carnival, Calgary Stampede and the PNE Exhibition to name just a few.
<![if !supportEmptyParas]> <![endif]>
Quote from Marc Wald (Rhythm Pals) – February 27 2006:
<![if !supportEmptyParas]> <![endif]>
"Judy was a regular on the radio show which aired from 1947-1950 on both networks on Thursday night 8-9pm on the Dominion Net and Friday nights on the TRANSCANADA NET 8--9 pm. In 1950 we did a mini tour to as far away as Winnipeg playing all the bigger locations and broadcasted at every location. THE RHYTHM PALS always were her back-up band as we played a lot of country & we always sang with her. She was one great gal and a fun one to be around. 
<![if !supportEmptyParas]> <![endif]>
When Judy started on the CHUCK WAGON Show she was a pop singer and we helped her so much to learn those country tunes that she had to sing. ''OH MAN" just to think back to those radio days!!"
<![if !supportEmptyParas]> <![endif]>
I'm sure it was at EXPO 1986 where she came up to us (WE HAD AN 18 WK CONTRACT WITH XEROX at their AMPITHEATRE) and we got her up to sing a couple of songs with us."
<![if !supportEmptyParas]> <![endif]>
The Rhythm Pals was a country music trio formed in 1946 in New Westminster by the accordionist and baritone Marc Wald, the bass player and tenor Mike, and the guitarist and tenor Jack.  Wald and Ferbey had toured western Canada in the late 1930s with Sleepy (Leslie Frost) and Swede
(Nels Nelson) and the Tumbleweeds from Saskatoon.
Patterning their style after the Sons of the Pioneers, the Rhythm Pals made their debut on CKNW radio's 'Bill Rea's Roundup'. Regular appearances followed on CBC Vancouver radio's "Burns Chuckwagon" and other shows. They made the move in 1950 to CKWX ''the big station in Vancouver.  It covered all of B.C. and was a 50,000-watt station so the entire province might hear them every day.
Mabel hung up her microphone in the mid 50's when the Big Band Era was slowing down.  She kept everything from her radio days in a trunk in the basement. Her relatives discovered her Burns Chuckwagon shirt, her gloves, boots and belt as well as photograph albums chock full of famous faces and newspaper articles about her moment in the spotlight of Vancouver's musical entertainment industry.  Every slip of paper, every telegram, and her scripts from the 1947 Chuckwagon Show all carefully tucked away.
<![if !supportEmptyParas]> <![endif]>
Mabel had married Lino Alfredo Pioli in 1949.  Len was a cab driver (owned his own Black Top Cab) and they enjoyed nightclubbing with a lot of the old gang from the radio days.  In later years they did a great deal of traveling. Len and Mabel did not have any children but were much loved by their three nieces.  After a lengthy illness Mabel passed away on Mar 28, 2000 in Vancouver.  Len passed away February 13, 2005 at the Burnaby General Hospital.  They are buried together at Mountain View Cemetery.
<![if !supportEmptyParas]> <![endif]>