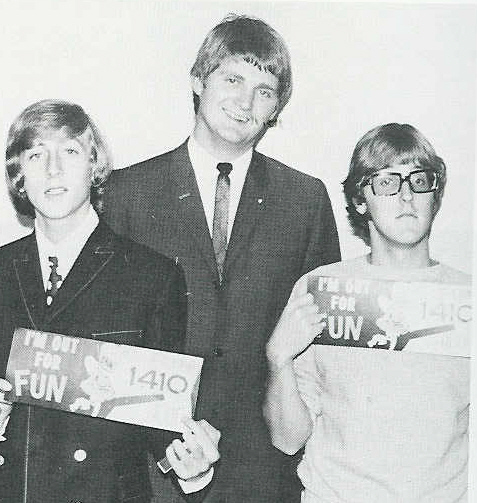 'Jolly' John Tanner
 CKOV Kelowna circa 1961; CFUN Vancouver 1964-67; music columnist Vancouver Sun mid 1960s; CKLG Vancouver Boss Jock 1967-70; CKVN Vancouver 1970-73; CKLG-FM Vancouver 1973-75; long-time announcer H.R. MacMillan Planetarium Vancouver; CKST Langley/Vancouver; weekends CHRX Vancouver late 1980s; CITR-FM Vancouver 1995-current and host Son of Nite Dreems CITR-FM 1999-current
Born August 11/1943
Lisa Smedman
Vancouver Courier
2005
C-FUN AM radio studio is long gone--it's a Salvation Army thrift store now--but the sounds of the psychedelic '60s will once again radiate from the corner of Cypress Street and West Fourth Avenue when a "Be In" comes to Kitsilano Aug. 20.
John Tanner, who will be spinning vinyl from Zulu Records at the Be In from 2 to 4 p.m., was a disc jockey for CFUN in the 1960s. He was in his early 20s then, with a Beatles-style haircut that alienated his ex-military father. He has vivid memories of the summer of 1968, Kitsilano's own "summer of love."
"I think 1968 might have been the craziest year," says Tanner. "That's when everybody and their dog came to the city to see the hippies and drive up Fourth Avenue. Traffic was just backed up all the side streets coming up to Fourth so [people] could drive by and look at the hippies."
Tanner remembers the trippy little shops that lined Fourth Avenue in the 1960s--Positively Fourth Street, the Psychedelic Shop--and the Afterthought, a live music venue that today is the Russian Community Hall at 2114 West Fourth Ave. Together with the Retinal Circus on Davie Street, it was the place to hear the new music that was wafting up from San Francisco on a cloud of pot smoke.
Tanner was in the thick of it, MC-ing shows by British invasion bands like Herman's Hermits and the Beatles in the early 1960s, then by psychedelic bands like Jefferson Airplane and The Doors as the '60s progressed. He remembers one Doors show--around 1968 or '69 at the PNE Coliseum--when the promoter insisted there would be no encore, but fellow MC Terry David Mulligan mistakenly encouraged the crowd to yell for more. The audience rushed the stage and Tanner had to defuse a tense situation. Later that night, he had to flee an after party when the promoter flew into a rage, thinking it was Tanner who had encouraged the crowd.
Tanner also remembers the on-stage craziness and energy of The Who, hanging out with Fleetwood Mac back stage, the dried banana peel-smoking craze that Country Joe and the Fish started when they played Vancouver in 1967--and the radio station's reaction to Donovan's "Mellow Yellow" song.
"When they discovered it was about smoking banana skins, they took it off the play list," says Tanner. "There was a real paranoia about that sort of thing."
The song, ironically, had been released in 1966, a year before the banana-skins-get-you-high rumour began.
The Aug. 20 Be In will feature a number of the songs of the '60s, performed by current-day bands. A main stage at Vine Street will feature The Hitmen, Noah Nine, the Fraser River Ramblers and Clare Brett performing rock, folk and protest music.
The Be In also includes a "let it all hang out" coffee garden on Yew Street, a 1960s car display on Pine Street, macrame lessons on Maple Street and "psychedelic pole painting" of street poles up and down Fourth Avenue. A full schedule is available at www.kitsilano4thavenue.com.
Tanner has invited a number of performers who were big names in the 1960s to drop by his turntable and share their memories with listeners. Susan Jacks and Craig McCaw from The Poppy Family have promised to stop by.
Tanner was fired from CFUN in 1968, after an on-air comment about the new letter-and-number automobile license plates B.C. had just adopted. He invited listeners to phone in odd combinations they'd spotted, and mentioned that someone had, allegedly, seen a license plate beginning with FUK.
Someone complained, and Tanner was told he could pack his bags and go. He did--to rival AM radio station CKLG.
Today, Tanner hosts shows at the H.R. MacMillan Space Centre and Planetarium, and co-hosts the show Son of Night Dreams on CITR 101.9 FM.