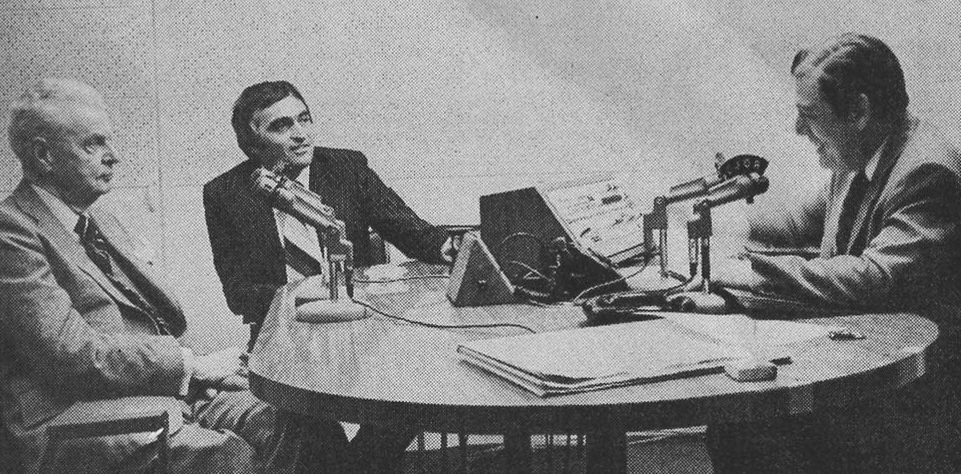 John Diefenbaker, John Reynolds and Pat Burns
John Reynolds - (1972-2005) MP (various times) Former federal Progressive Conservative Member of Parliament; hosted morning talk show at CJOR Vancouver beginning in 1977; (1983-1997) former BC Member of the Legislative Assembly; former Canadian Alliance/Conservative Party of Canada MP current
***
JOHN REYNOLDS: He's too swarthily good-looking for radio but in other respects he is a natural.  Like most open-liners, he is companified (John Reynolds Enterprises, and even his producer has her own company.)  It is no surprise that talk radio receives the complaint of the small business man so graciously.  He comes to talk radio by way of celebrity, just as, during 5 years as a backbench Conservative MP, he came to celebrity by way of talk radio's forum for liberal causes.  Not all the guests come to Reynolds's 3-room suite at the Hotel Vancouver will be familiar with the host.  And what an impression they must get.  In the studio and the reception area, we counted 50 framed objects; pictures of Reynolds with politicians and judges, sketches of every Canadian prime minister, political cartoons--all appear to have been framed and hung the same day, instant personality totems for an instant personality.  A bookcase bulges with Canadian statute books, the might of the British Parliamentary system aligned with the host.  He hasn't become the anticipated raving right-winger, nor has he stayed all that close to the safety of politics.  Still he says, "I know how the system works and I can say what I want because I have the inside track."  John Reynolds does not lack self confidence.  This year is too soon for television but next year might not be.
***
Reynolds was born January 19, 1942, in Toronto, Ontario, moved to Montreal, Quebec 1947 where he lived until 1958. He is married to Yvonne and they have seven children and nine grandchildren.
Mr. Reynolds began his career in the sales and marketing field; was western sales manager for Rust Craft Greeting Cards; joined Ethicon Sutures Ltd. (a subsidiary of Johnson & Johnson) and at that time was the youngest manager ever appointed by that company.
Mr. Reynolds political career began in 1972, when he was elected to the House of Commons as a Progressive Conservative Member of Parliament for the British Columbia riding of Burnaby-Richmond-Delta. He was re-elected in the 1974 general election. During his time as an MP (1972-1977), he served on numerous standing committees, health and welfare, sport and fitness, transportation, and justice and legal affairs. He chaired the Progressive Conservative Caucus Committee responsible for the Department of Supply and Services.
Following his tenure as an elected official, Mr. Reynolds pursued work in the private sector, which included directorships on the boards of numerous public companies, including International Corona Resources; one of the largest gold discoveries in North America; and hosted one of British Columbia's leading radio talk shows.
Mr. Reynolds began his provincial government political career in 1983, elected as Member of the Legislative Assembly for British Columbia for the riding of West Vancouver-Howe Sound. Re-elected in 1986 and elected Speaker of the Legislative Assembly on March 9, 1987, a post he served with distinction until his appointment to Cabinet on November 1, 1989, as Minister of Environment.
During Mr. Reynolds term as Speaker of the Legislative Assembly and as a consequence of his particular interest in the Commonwealth, he held the position of President of the British Columbia branch of the Canadian Commonwealth Parliamentary Association.
As Minister of Environment in British Columbia, Mr. Reynolds chaired the Cabinet Committee on Environment and Land Use, was a member of the Planning and Priorities Committee of Cabinet, Regional and Economic Development Committee of Cabinet, Native Affairs Committee of Cabinet, Cultural Heritage Committee of Cabinet, and the Vancouver International Airport Cabinet Committee. He was also a member of the BC/Alberta Boundary Commission, the BC/Yukon/NWT Boundary Commission, and the Environmental Appeal Board.
Following the 1991 provincial election, Mr. Reynolds moved to Scottsdale, Arizona where he resided from 1992 to 1996. During that four-year period he was President of a Venture Capital Company, involved in numerous projects.
In 1997, Mr. Reynolds returned to British Columbia and on June 2, 1997, he was again elected to the House of Commons as a Reform Party Member of Parliament for the riding of West Vancouver-Sunshine Coast. He was appointed on June 20, 1997, to the 'shadow cabinet' of the Official Opposition as Critic for Citizenship and Immigration. One year later, in June 1998, he took over as Chief Opposition Critic for Fisheries and Oceans and on August 31, 1998, Mr. Reynolds was asked to take over the Justice portfolio as Chief Opposition Critic. On August 1, 2000, the new leader of the Canadian Alliance, Stockwell Day, appointed Mr. Reynolds Chief Opposition Whip. In this capacity, Mr. Reynolds was a member of the Procedure and House Affairs Committee, and a member of the Board of Internal Economy, which manages the budget of the House of Commons. On November 27, 2000, Mr. Reynolds was re-elected by the electorate of West Vancouver – Sunshine Coast for a second term and was re-appointed as Chief Opposition Whip. In January 2001, Mr. Reynolds was appointed as the Official Opposition House Leader. In December 2001, Mr. Reynolds was elected Leader of the Opposition in the House of Commons by the Canadian Alliance Caucus, and Leader of the Canadian Alliance by the national council of the Canadian Alliance Party.
On May 13, 2002, after Stephen Harper's election as Member of Parliament in Calgary Southwest, Mr. Harper became the Leader of the Opposition and appointed Mr. Reynolds as the Official Opposition House Leader. In January 2004, he resigned that position to become Co-chair of the Stephen Harper Leadership Campaign. Following Mr. Harper's successful bid to become Leader of the Conservative Party of Canada, Mr. Reynolds was again appointed Official Opposition House Leader on March 22, 2004.
Mr. Reynolds' community activities have included being a founding member and chairman of the Gordie Howe Foundation for Disabled Athletes, member of the International Churchill Society, and he served as a member of the Board of Governors for the 1994 Victoria Commonwealth Games Society. He was awarded the Queens Medal in 1978 and 2002.
John wa s re-elected in the June 28, 2004 general election. Shortly after the election Stephen Harper appointed Mr. Reynolds as the Official Opposition House Leader and Critic for Sports. On January 24, 2005, Mr. Reynolds stepped aside as Official Opposition House Leader after deciding not to seek re-election, but he will serve as Chair of the Tories National Campaign in the next election.
***