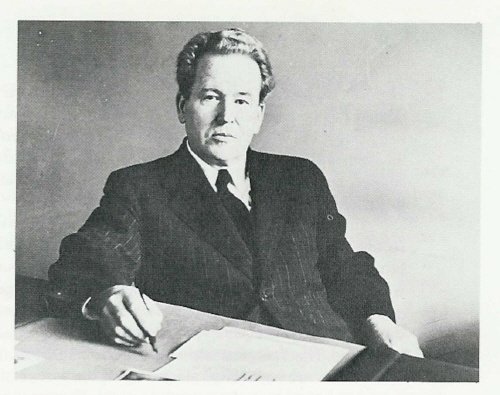 Ira Dilworth
Director of CBC Radio's B.C. broadcasting from 1938 to 1946. He ultimately became director of the English language CBC network in 1956
<![if !supportEmptyParas]> <![endif]>
Ira Dilworth was, among many things, the most important literary conduit for Emily Carr's writing. His introduction to her work in Klee Wyck (1941) reveals the affectionate concern for her as both an artist and a friend. Few mentors and editors in British Columbia have been so influential on the career of a particular literary artist. Dilworth corrected Emily Carr's rather awkward spelling and grammar. He worked directly with her as an editor, spending three weeks with her on The Book of Small, for instance, and he also negotiated with her publisher. Dilworth effectively replaced the painter Lawren Harris as Carr's confidante. Dilworth and Carr were both intensely private people who were proud to be British Columbians. Despite their 20-year-age difference--or perhaps because of it--they were able sign their many letters to one another with 'love'. She confessed some of her most private feelings to him and sometimes playfully referred to him as 'My Beloved Guardian'. As Kate Braid has noted in her short but useful biography of Carr, she categorized her letters to him as N.N.T.A. (Not Necessary To Answer), R.A.L. (Read At Leisure), Red Hot Specials, Week Enders and Special Deliveries. In turn, she kept a bag of his letters by her bed to cheer her up.
<![if !supportEmptyParas]> <![endif]>
Born in High Bluff, Manitoba on March 25, 1894, Dilworth grew up in the Okanagan and Victoria where he taught school from 1915 to 1926, completing his M.A. at Harvard in the process. As a high school principal in Victoria from 1926 to 1934, he became a trusted sponsor of Carr's work, later serving as her literary trustee. Living with his mother on Simcoe Street, Dilworth was a progressive presence in the city, hosting promising students that included Walter Gage, Roy Daniells and Jack Shadbolt, often playing them Schubert on the piano and encouraging them to write poetry. When he moved to Vancouver to teach English at UBC from 1934 to 1938, he was able to further promote Carr's career, gaining influence as director of CBC Radio's B.C. broadcasting from 1938 to 1946. He ultimately became director of the English language CBC network in 1956. Dilworth had studied at Harvard under George Lyman Kittredge and his own protegé Roy Daniells became head of the UBC English department. Ira Dilworth founded the CBC Vancouver Orchestra in 1938--still going strong more than 60 years later--and in 1945 he also became the first president of the Vancouver Community Arts Council, the first organization of its kind in North America. Dilworth died on November 23, 1962 in Vancouver.
<![if !supportEmptyParas]> <![endif]>
***
<![if !supportEmptyParas]> <![endif]>
IRA DILWORTH
<![if !supportEmptyParas]> <![endif]>
The death occurred on November 23rd, 1962, at the age of 68, of Ira Dilworth, formerly a Professor of English in this University, a distinguished alumnus, and for three years a member of the Senate. It is an occasion when we can pay tribute, many of us in the light of warmly personal memories, to a man of steadily widening influence. For he not only began his career as a teacher, he was in a sense a dedicated teacher all his life. The values and enthusiasms he directly communicated to those who knew or heard him became in turn a leaven in the lives of a larger community and of fresh generations.
<![if !supportEmptyParas]> <![endif]>
From 1915 to 1934 Ira Dilworth taught English at Victoria High School where his powers as a teacher were matched by administrative talents that made him principal in 1926. He also was twice elected President of the B.C. Teachers' Federation. The inspirational quality of his teaching, widely acclaimed, never meant a sacrifice of care for detail and for a high standard of work. His direction of the annual Shakespeare production and his share in the morning assembly brought dramatics and music into the life of the school; his friendly interest in pupils and former pupils, many of whom he invited into his home, opened for them cultural horizons that were new and exciting. Because these talents and interests inevitable took him into the life of the community, the cultural growth of Victoria owed much to his vitality and unselfish zeal.
<![if !supportEmptyParas]> <![endif]>
As Associate Professor of English at the University of British Columbia from 1934 to 1938, he attracted large numbers of students to his lectures on the poetry of the Romantic Movement. Here his infectious enthusiasm and sensitive interpretations extended his influence through the maturer level of those who were themselves to become teachers. From 1938 to 1940 he was also the director of the Bach Choir.
<![if !supportEmptyParas]> <![endif]>
The blend of aesthetic interests and administrative gifts soon carried him on to a larger sphere of activity as regional director of the Canadian Broadcasting Corporation, a post he held from 1938 to 1947. He also helped to organize the Vancouver Community Arts Council, and in 1945 became its first president. By his move to Montreal he enlarged further the scope of his work and influence, becoming general manager of the International Service of the C.B.C. in 1947, director of programme production for Toronto in 1951, director for Ontario in 1953, and director of all C.B.C. English networks in 1956. Through these years until his retirement and even afterwards, his distinctive qualities and energies were employed in fostering the cultural life of all his fellow-Canadians, especially by developing the creative powers of younger people, whom it was his delight to know and assist.
<![if !supportEmptyParas]> <![endif]>
Although this outline of a career can establish the facts of a steadily increasing influence, it can do little to suggest the grateful memories of a personality at once gay and serious, warm and sensitive. Ira Dilworth knew the diligent and exacting labours of an editor, in his texts for high school use, in his own college anthology of twentiethcentury verse, and in his preparing of Emily Carr's prose for the press. Yet he was not one of those scholars whose intensive exploring of a specialized field results in a number of books and articles; he was rather one whose humanistic passion for literature and the arts took the form of an urge to communicate, and whose knowledge and insights were employed in stimulating and encouraging others. His untiring efforts to hasten recognition of Emily Carr as a writer are on record in her own affectionate words; his many-sided contributions to Canadian cultural awareness are a matter of public acknowledgment. This pleased him, but he would be just as pleased to have us record, in the words of one of his favourite poets, "that best portion of a good man's life,/ His little, nameless unremembered acts,/ Of kindness and of love."
<![if !supportEmptyParas]> <![endif]>
<![if !supportEmptyParas]> <![endif]>
<![if !supportEmptyParas]> <![endif]>
Home: BC Radio History