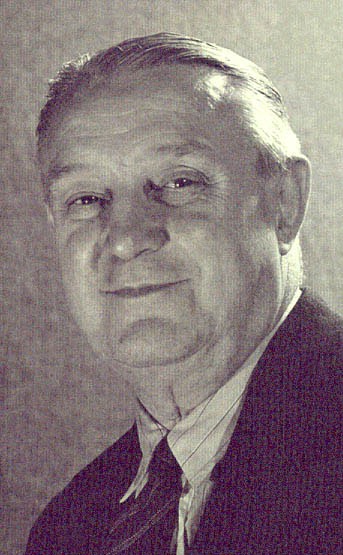 Uncle Billy Hassell
born:Nov 7, 1893
died:Dec. 14, 1966
BC radio pioneer dies at 73
Vancouver Province, Dec. 16, 1966
William George Hassell, founder of one of Vancouver's first radio stations, and a children's program announcer known to thousands as "Uncle Billy," has died at age 73.
Mr. Hassell was born in Bath, England, in 1893. Before coming to Vancouver in 1919, he served during the First World War as a wireless operator with the Royal Navy attached to the Royal Canadian Navy.
In 1922 he founded CHLS, one of the first radio stations on the west coast of North America.
The station changed its name several years later, when it became The Daily Province's CKCD, with studios in the old Province building on Hastings Street.
Hassell claimed to have originated during this period the "Santa Claus" radio auctions—which captured some 80 per cent of the local radio audience, which beamed from The Province.
In 1941, the CKCD station merged with CKWX, with which it had been sharing a frequency on a day-night basis.
"Uncle Billy" stayed on the station with his children's program "Squareshooters" until he took it with him to Toronto at his sponsor's request in 1942. It was carried both locally and in the east until he retired to breed collies in 1946.
From his home in Langley, he became known as one of the top collie breeders in the world.
FAMILY: His wife Sheila, whom he married in 1942. His first wife, Louisa Francis, died in 1941. A son, Alan Dale Hassell of Vernon; four daughters, Mrs. Fred Wolf of Newton, Mrs. Stuart Deely of North Vancouver, and twin daughters, Mrs. Don Lugtig of St. Boniface, Man., and Mrs. Calvin Green of Renfrew, Ont. (who were born during a radio auction and this made the front page of The Province); two brothers, James of Whalley and Reg of Courtenay; 19 grandchildren.
"Uncle Billy" is Father of Twins; Auction Tonight
Province, Dec. 22, 1932
Santa Claus paid an advance visit to Mr. And Mrs. W.G. Hassell this morning when they became parents of twin daughters.
"Uncle Billy" Hassell, whose series of radio auctions in aid of The Province Santa Claus Fund have been more popular than ever this year, is expected to be in top form for tonight's broadcast over station CNRV from 9 to 11:30 o'clock. He has been busy all day receiving congratulations from scores of friends.
Mrs. Hassell and the twins are in Kingsway Nursing Home.
Vancouver Province, May 31, 1950
Dick Diespecker
BILLY HASSELL DROPS IN
An old friend was in my office today, remembered by thousands of British Columbians in the days of the Daily Province station, CKCD. It was "Uncle" Billy Hassell who has not been seen around these parts for some time.
For a while during the war Billy Hassell was broadcasting in Toronto, first on CJBC and the Dominion network and later on CFRB. His programs were sensationally successful, but Billy very sensibly decided at last that that the game was not worth the candle and returned to B.C. He has been up in the Fraser Valley breeding dogs and is now living quietly in an apartment in Vancouver, enjoying life more than he ever did in the radio business and looking not a day older than he did 15 years ago.
Jim Bennie writes - Billy did not arrive in Vancouver until 1923. That's when he is first listed in the city directory. He had a home in the boonies at 4407 Nanaimo, South Vancouver. He and his younger brother Jim worked for Cassidy's. He was a salesman, his brother was a repairman. Cassidy's was at Hamilton and Davie. It sold all kinds of stuff: china, glassware, dolls, toys .. and Columbia grafanolas and records.
In 1924, he's listed as a department manager at Woodwards. 1925 has no occupation. The directory also lists his widowed mother Martha.
In 1926, he was a partner in Barbour and Hassell. The directory doesn't say what that was, but there was a Barbour and somebody else who owned a machine shop. In 1927, he is listed as a printer, but it doesn't reveal whether it was at the Province. No occupation is listed in 1928 or 1929, when he moved to 2637 Portland, Burnaby.
He's not in the 1930 directory. During some of this time, of course, he was at CHLS/CKCD.
Prior to his arrival in Vancouver, he was in Cumberland (Vancouver Island). He was married there 20 Nov. 1919 (he and his brother married sisters) and his first child was born there in 1922. The twins were born 22 Dec. 1932, and I gather one is still alive.
Joan Hassell, Bill's daughter- in-law says her husband Alan Hassell wrote a book in 1992 called The Hassells of Early Radio: My life and times with Uncle Billy.
It is 70 typewritten and mimeographed pages, bound with tape between two cardboard covers. It was privately printed, not by a publishing house. There's no copyright.
In the first eight chapters of part one, the book also delves into some of the singers and musicians heard on CHLS. In the addendum, there's a Langley Advance story from 1965, which has a nice summary of his life.
Incidentally, the H in CHLS was for Hassell, the LS was for the co-operator of the station, L.S. Hawkins.
Alan became editor of the Vernon News but worked in the early 40s at CKWX and CKMO. In another part of the book he tells some great little stories his experiences on local radio then. He hosted the DX Prowl before Jack Cullen arrived (no mention of Wilf Ray).