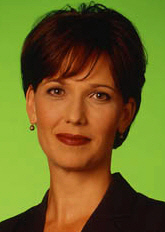 Gloria Macarenko - BCIT Broadcast Program trainee; Prince Rupert radio; CKWX early 1980s; host BC portion CBC-TV newscast News Canada Now 1989-current; appeared as TV reporter in Bingo 1991 and TV host in Maternal Instincts 1996; twice nominated Gemini Awards Best News Anchor; recipient Radio and Television Directors Association and a Gemini Award for Best Live News Coverage for five-hour marathon coverage of Swissair Flight 111 crash at Peggy's Cove NS Sept. 2, 1998 while guest anchor on The National
GLORIA AT A GLANCE - 1999
Background: Macarenko's first broadcasting job was reading the news after school weekdays and weekend mornings for CHTK Radio in her home town of Prince Rupert. After graduating from high school, she moved to Vancouver and studied broadcast communications at the B.C. Institute of Technology.
She worked for CKWX Radio for two years as a beat reporter, then took a four-year sabbatical in Spain and France, where she taught English and studied languages and art history. Returning to Vancouver, she briefly worked for CKWX again, then decided to try her hand at television. She made her first appearance on CBC News Final in 1985.
Macarenko was appointed interim anchor of B.C.'s CBC News Final, as it was then called, in 1988, and went on to co-host the evening newscast with Kevin Evans through News Final's transition to Broadcast One in 1995.
1989
Leila Paul is not just a pretty face.
Gloria Macarenko says she's not, either.
And that's the problem.
Paul's a seasoned reporter who landed her first TV job in 1972.
In Vancouver, she's familiar as CBC-TV's weekend news anchor.
But Paul, 43, who came to CBC after a stint as news anchor in St. Orleans, was beaten out for the spot as CBC-TV's news reader.
Hired instead was Macarenko, 27, a former Miss PNE (1978) with fewer journalistic credentials.
Paul has launched a union grievance and a complaint with the B.C. Human Rights Branch that she was discriminated against on the basis of age.
"If I wanted to work in a pretty business I'd have become an actress," Paul says. "But I'm a journalist - and I'm not going to hide my age."
Macarenko admits she has no television news experience.
"I did enough beat reporting to be familiar with the important issues," Macarenko told The Province.
Macarenko has been CBC's backup weather person for 3 1/2 years and has acted in many TV commercials.
She also worked for several years in radio, but admits "if you stack up credentials, there's no question she's got more. I don't know why I was hired."
"Gloria is very bright. . . . I sat down and grilled her mercilessly on the news, on the issues of the day, she didn't put a foot wrong for an hour and a half."
Macarenko, who started working in radio news at the age of 17 (she'll be 28 next month), said she's confident of her reporting abilities and on-air performance.
"I hate it coming down to defending my credentials," Macarenko said. "I think it comes down to my being knowledgeable, comfortable and professional, and I think I'm all of those things."
2002
VANCOUVER -- Former CBC news anchor Leila Paul said Monday she is deeply disappointed by the Canadian Human Rights Commission's decision to reject her complaint of age discrimination -- 13 years after she lost the Vancouver late-night job to Gloria Macarenko.
The case has been bouncing in and out of the courts and the hands of the commission since Paul first filed her complaint in 1989. Its history includes a Federal Court ruling that the commission had bungled the case and a subsequent appeal court ruling that the whole process should begin again.
Paul worked as weekend news anchor and as a reporter at CBC, and was 44 when she lost the weeknight job to Macarenko, who was 27 at the time.