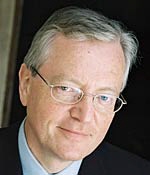 George Madden
George Madden - BCIT Broadcast Program graduate; CJOR Vancouver; CKNW New Westminster; assistant to Vancouver Mayor Jack Volrich 1976-80; VP Corporate Communications EXPO 86 Vancouver; Station Manager CHRX/CJJR-FM Vancouver to 1992; Partner Pinton Forrest & Madden current. Past Chair Jack Webster Foundation
A highly regarded senior executive, George Madden has to his credit more than 25 years of first-hand experience with human resources planning, communications management and executive search.
George is a well-known figure in the Canadian business community: after serving as Vice President, Corporate Communications for EXPO 86 in Vancouver, he joined The Jim Pattison Group, one of Canada's largest privately-held companies, in various senior management capacities.
Anne Fletcher
Financial Post
Toronto Nov 29, 1988.
George Madden, president of Jim Pattison Broadcasting Group, uses the golden touch when hiring and firing staff
People who have have been hired and fired by George Madden say he is a nice guy.
As president of the Jim Pattison Broadcasting Group and general manager of Vancouver radio station CJOR, Madden fired 48 people at the end of last summer when the money-losing enterprise opted for "classic rock" instead of its traditional talk-show format.
After being axed in his 10th year at CJOR, Fanny Kiefer holds no grudge. "I think George is a very nice person," he says.
In a tidy twist of fate, Madden began his career at CJOR as a 20- year-old operator working Pat Burns's evening show. Sixteen years and several jobs later, Madden was the one to hand Burns his exit visa from the station.
"I think it was dreadful, the way it was handled," says the gravel-voiced Burns, but he says he's not bitter.
Since radio lured Madden away from commerce studies at the University of British Columbia, he has moved from reporter to bureaucrat to businessman.
Civic life has been his focus. "I love the city," he says.
"I've traveled extensively and I have yet to find any place that matches Vancouver."
As a reporter for CJOR and later for CKNW, Madden covered city hall. Then-mayor Jack Volrich singled him out of the press corps in 1978 by offering him a job as executive assistant. "George was one of the brightest of the reporters," Volrich recalls.
"I suggested to him that he should be looking ahead to something a little more challenging."
The city's dreams vaulted Madden into international circles as Vancouver put in a losing bid for the 1988 winter Olympics and began preparations for a world's fair in 1986. Madden stayed for a couple of months after Mike Harcourt (now provincial NDP leader) won the mayor's chair in November 1980.
In February 1981, he moved on to become the fifth employee of Expo '86, managing community relations. By the time the fair closed in October 1986, he was overseeing 150 people in five departments. "I probably got 10 years' experience compressed into five," Madden says. A week after Madden joined the Expo team, businessman Jim Pattison signed on as chairman in a voluntary job that consumed most of his time until the fair gates closed.
"I appreciate Jimmy because you know where he's coming from. There's no grey areas," Madden says. It's a management style he tries to practice.
"My personality is such that I don't have peaks and valleys," he says. "And I don't have much time for people who do."
If you have problems, you don't bring them to work, says Madden. "I'm a very up person. I'm also a very honest, straightforward person. I give people responsibility and authority."
Pattison liked what he saw and, after Expo folded, he created a job for Madden as vice-president of corporate communications with the Jim Pattison Group. The company reported 1987 sales of $1.7 billion in operations ranging from supermarkets to financial services.
"George is one of the finest people I've ever worked with in my life," Pattison says.
"I'm extremely high on him. "He cares about people. He's honest. He's a hard worker. He's smart." After only four months, Pattison, offered Madden CJOR.
"You could have picked me up off the floor," Madden says. He took over a money-losing operation that was Vancouver's No. 2 talk show after CKNW.
Madden quickly found he didn't have the usual history in sales and programming for the job.
"I have discovered it's an old boys business," he says. "We knew he didn't have the experience," says Pattison. "You look at the character of the individual. Everybody can learn."
Madden tinkered with the programming for months. But he threw in the towel after a market study concluded the format would never win against CKNW and CBC. "The core audience that likes talk radio can only support so many stations," he says.
"CBC has a large, loyal audience who don't listen to anything else." A shift to music also brought a change in call letters, to CHRX.
And strategy was mapped out in secret to protect ratings, he says.
But word leaked out before he notified station staff. "It was awful," Madden says.
"There's no easy way of terminating 48 people. I believe that he gave it his best shot," Kiefer says.
"Nobody at the station really begrudged the fact that they had to make the decision. George was fairly easy to get along with," Burns says. "He was a gentlemanly sort of fellow."
Madden also looks after CHRX's sister FM station. He also supervises two radio stations and one TV station in Kamloops, B.C., and another radio station in Williams Lake, B.C. Pattison drives himself and those around him very hard. But Madden says he's out of the office by 6 p.m. so he can put his three daughters - aged 9, 5 and 2, - to bed before continuing work at the kitchen table.
****************
Barker, Kevin
BC Business.  Dec 1987
If George Madden ever gets fired from radio station CJOR, he's got the makings of a great career on the lecture circuit. His own rise from operator at CJOR to general manager -- studded with some very interesting, if not spectacular, excursions along the way -- is worth hearing about. And after 15 years, George Matthew Madden has nothing to be ashamed of.
Well, almost nothing.
There was that time in Moscow in 1979 when the young executive assistant to Vancouver mayor Jack Volrich made an -- ahem -- incorrect impression on his hosts during a goodwill tour of the Soviet Union. Madden and alderman Don Bellamy, so the story goes, had ducked their escorts for a night on the town and rolled home in the wee hours, only to be embarrassed at breakfast when their inscrutable host commented publicly on the precise hour of their respective arrivals. The two had been tailed, it seemed, though further details were never revealed.
As the youngest vice-president at Expo 86, Madden was equally embarrassed when VP of corporate sponsorship, Mel Cooper, called him by his boyhood name during an exchange in a management meeting. The name 'Matt' was one he hadn't heard since he was a kid running around with Cooper's 10-year-old. "Perhaps I should call you Mr. Cooper," Madden replied with a smile.
But that kind of cool has radio pundits wondering if the man with the nice guy image has the right stuff for Vancouver's fiercely competitive radio game. Even CJOR owner Jimmy Pattison has reservations, admitting that "George is a lot nicer than I am."
So when the news broke that Madden -- who only months before had become head flack for The Pattison Group after leaving Expo -- was replacing Harvey Gold as general manager (and president) of CJOR and its FM side, JR Country, the drums in the radio jungle beat into overtime. Did this guy know anything about actually operating in the president's seat? Was he hard-headed enough? Would he dump the news-talk format and replace it with music? No answers -- only the message that Madden will need a lot more than chutzpa to raise the ailing fortunes of the station.
CJOR's problems could be described as chronic; although it can recruit stars, it seems unable to hang onto them. For example, take a look at its record with talkshow hosts: Pat Burns, who began the legendary Hotline on CJOR in the mid-1960s; Ed Murphy and Jack Webster in the early '70s; and former Socred health minister Rafe Mair in the 1980s. When each was respectively fired, jailed, or hired away by BCTV or CKNW (which had also acquired Madden in the early '70s), CJOR had no one waiting in the wings.
Part of the reason there was no eager new replacement is the high cost of keeping a stable of talent. Waging radio talkshow wars costs big dollars. In 1972 Jim Pattison paid Jack Webster $100,000 to leave CKNW (he had been earning $81,000). Webster, who had 54,000 listeners on CKNW, put CJOR over the top -- and station manager Don Wall broke out the champagne. But when the crusty Scot departed for the bright lights of BCTV, it left a hole that has only been partly filled since.
When you talk radio in this town you can rarely do it without constant reference to CKNW. A quick look at the ratings -- which measure numbers of listeners in various categories and at various times -- shows that CKNW is the most listened to radio station in B.C. Averaging the past year of quarterly rating periods shows it had 13 per cent of the total hours listened to by people 18 years and up. In the crucial 25 to 49 age group, it had 12 per cent in last summer's ratings book. In contrast, CJOR had a mere six per cent and three per cent respectively.
All of which prompts Madden to compare the modern day CJOR to the Vancouver Canucks. "They're in the middle of the league but haven't made the Stanley Cup." (Madden is too kind; the Canucks finished last year in the basement of their division, while CJOR is in the middle of the ratings pack).
Owner Jimmy Pattison admits he kept the station over the years because it was a good investment, but "In the past few years we've been disappointed in its results. We were waiting for an FM licence, which we received a year ago."
But after a year the fortunes of JR Country, CJOR's FM side, haven't been much better than those of CJOR. It's current 75,000 listeners are fewer than anticipated and it appears to lack a substantial enough profile in the community. Madden as general manager of both stations has a whole lot of educating to do.
On that score, his track record suggests he's the man for the job. A large part of the marketing success of Expo has been attributed to the Pattison and Madden show-and-tell methods -- taking plans for the fair out into the community, winning friends and supporters well before it opened. Madden is trying the same method at CJOR, including joint ventures with the financial community at trade shows and seminars.
Former employers such as Mel Cooper, Irwin Swangard, who gave Madden his first radio job, Jack Volrich and Jim Pattison are quick to take credit for discovering him. Even CKNW is uncharacteristically kind. "George Madden is a class act," says program manager Doug Rutherford. "We wish him the best," (even though it will likely be at their expense).
And at 35, the best is undoubtedly yet to come -- though the last 15 years have shown a steady upward progression. At 20, Madden was bouncing irate listeners from CJOR's Grosvenor Hotel studios for Hotline host Pat Burns. Now he's his boss. Along the way he knocked off major successes as star reporter for CKNW, executive assistant to former Vancouver mayor Jack Volrich, and vice-president communications for Expo Corporation (and later of the marketing division). It was here he met -- and obviously impressed -- Jim Pattison. Says Pattison: " . . . I was there about seven days a week. George would be in there at odd hours, too. Weekends, evenings. He's a hard worker."
It was Madden's city hall experience that first launched him into the big leagues. In 1978, Mayor Volrich's former executive assistant had taken the fall in the Seiko watch affair, in which a collection of Japanese watches intended as gifts to aldermen ended up on some unexpected wrists. Madden was then a young CKNW radio reporter. Volrich invited him to apply for the job as his new assistant.
"I told him, frankly he was one of the brighter guys around there (city hall)," recalls Volrich. "I said he had a bright future ahead of him if he was prepared to take on a new challenge." He was.
Madden soon learned that city hall was run like any other corporation. And his people skills put him in good stead with everyone. "I became, in essence, an ombudsman," he recalls. "If someone had a problem they phoned the mayor's office and it usually came to me." Volrich's political fortunes changed two years later, but by that time Madden had indispensible knowledge of the upcoming Expo 86 world's fair. Paul Manning hired him as vice-president of communications for Expo 86 two weeks before Jim Pattison became president/chairman.
Madden says he admired Pattison's style of "management by wandering around" Expo headquarters at the Scotia Tower on West Georgia. "He'd be all over the place -- he was like a sponge soaking things up all the time. And at management meetings he'd ask questions he already knew the answers to," he says.
"He knew more about the day-to-day operation than the senior managers. He talked to the people who really knew the information."
Madden says he's tried to incorporate Pattison's style of operating into his actions at CJOR. He's also toughened up his act somewhat. After four months at CJOR he had cut loose bible-thumper Bernice Gerard as well as his nine-to-noon morning man, fired sales manager Ralph Ragan and raided TV station CKVU, Richmond radio station CISL, the westside community newspaper, the Courier -- taking Wayne Cox, Andy Michaelson and Joy Metcalfe respectively. With news director Tom Mark, the three-man team in the morning slot goes head to head with CKNW's Gary Bannerman.
That initial move by Madden was what radio people called "ballsy."
"When you move your key slot against Bannerman and replace your sales/revenue guy, it shows you're dealing with things right off," says Mel Cooper, owner of CFAX in Victoria. "George will make what he thinks are the right decisions under the circumstances."
Late October brought more changes when Madden quickly capitalized on CKNW's firing of sports director Al Davidson. Within only a few days, Madden had Davidson on the air, obviously hoping to woo loyal listeners from NW to OR. A couple of weeks earlier, CKNW had poked a hole in Madden's new early-morning team when it hired away newly arrived Joy Metcalfe. Madden responded by hiring Lynn McNamara, a fashion reporter for CBC TV's mid-morning show.
Madden's strategy is more a mingling of formats than a head-on run at CKNW. "There's been a history since Webster left to counter the competition with a similar personality," he says. "We're avoiding making that mistake. The problem is that Vancouver radio has been saturated with no less than 18 stations -- all seeking a piece of that market. The strategy at CJOR is to take a piece off every segment."
As a result, topics on Wayne Cox's morning show can range from professional ghost busting to bats at the Vancouver Game Farm. During ratings week in October, Cox was alternating between Asian gangs and Susan Mendelson's new recipes, while CKNW had Jack Webster beating up Premier Bill Vander Zalm on the usual topics -- Indian land claims, logging the Stein Valley, decentralization.
That's fine with Madden, who thinks listening to one guest for an hour and a half "is one of the biggest tune-outs around."
CKNW, which sees itself beseiged by radio pipsqueaks and a more fragmented market, has taken notice of the changes at CJOR.
"George has mapped out a pretty long plan of those changes he sees as positive, but he knows that it will be a little while before they show results," says program manager Doug Rutherford. However, Rutherford recognizes that CJOR has joined the pack that wants to take bite-sized chunks out of NW's audience. "That's a challenge for us," he says.
There are now 18 FM and AM radio stations in Vancouver sharing a finite -- and some say shrinking -- market. In addition, that market is more fragmented than ever before. Rock is no longer rock; it's "lite," "classic," "album" or "gold." Each aims to appeal to a different slice of that lucrative 25 to 49 yuppie demographic.
Madden plans to siphon listeners from each station. And CKNW is just one other radio station he plans to steal listeners from, he says. But saying CKNW is just another radio station is like Coke saying Pepsi is just another soft-drink company. CKNW and CJOR are the only talk radio stations classified by the Bureau of Broadcast Measurement (BBM) in the Vancouver market. Both have older audiences, and both have the same argument against the rockers -- that younger people weaned on the information age want information, not just music.
Appealing to that younger audience is forcing both stations to do a long stretch, programming-wise. For example, Rutherford has cut back Jack Cullen's Owl Prowl program for the Larry King show, which features top Hollywood stars. Madden has a penchant for personal finance, which is a large part of CJOR's news and information programming.
"What we are avoiding and what has proved to be fatal is trying to best CKNW. They're no better than anyone else. They have their problems, too," he says.
And they seem to be having their problems now. Bannerman, the mainstay of the all-important 9 a.m. to 12 noon slot, all but disappeared during one of BBM's "hot" ratings weeks in October. Jack Webster stepped in temporarily. And as of writing in late October, rumor had it that Bannerman may be gone for good. Given NW's modus operandi for grooming back-up talent, former Socred health minister Rafe Mair -- currently in the slot -- is possibly next in line. Madden is skeptical: "You can make a politician out of a talkshow host, but you can't make a talkshow host out of a politician. Rafe Mair is still learning."
Radio experts are lining up to take potshots at Madden's theory about pilfering listeners from a variety of stations. JR Country, CJOR's FM side, may well draw the odd disenchanted rocker, but many think in-depth news and political commentary are necessary to keep the talk radio crowd. CJOR's morning programming seems aimed at the listener with the 30-second memory. Says radio observer Denny Boyd: "Bannerman's average listener seems to know more about the issues than Wayne Cox."
Madden also has a whole lot of momentum going against him. CJOR is generally thought of as a station with a spectacular past rather than a future. Madden hopes to turn it around by getting out in the community and attracting a new generation of talkshow enthusiasts without losing the old faithful.
Both Madden and Rutherford agree that stumbling over the growing legions of grey folks to get to the yuppie crowd is a mistake. Retirement age is getting younger; disposable income is getting larger. The elderly population in Canada will triple in the next 45 years and double by the end of the century, according to Statistics Canada. The average income of the 65-plus crowd is $21,000 -- below the national average of $32,000. But a lot of that is disposable income because their houses, cars and boats are paid off. All of this has prompted marketing people to label the blue rinse crowd as the Wellderly, or Whoopies (well-off old people).
In the meantime, CJOR still has the over-50 crowd, although CKNW, by virtue of its sports programming, has a broader range of listeners. Without it, the average would be a lot higher.
Madden says there is generally a lot of noise when a biggie like NW goes for the younger set. And there is a huge downside risk of blowing away the older, established listeners. That's why Madden is predicting a lot of noise -- and some opportunities -- in the next few years as both stations try to reposition themselves.
********
Denny Boyd
The Vancouver Sun - May 8, 1987
When Matthew George Madden was trying to break into radio in the early Seventies, CJOR program director Neil Soper told him the name had to go.
Matt Madden, said Soper, had a nice ring for a western movie, but on radio it sounded like a door slamming. So Matt Madden moved the second given name up a notch and became George Madden for the sake of sonance and Jimmy Pattison's profit margin.
George Madden covered city hall as a newsman, moved into city hall as executive assistant to Mayor Jack Volrich, moving ever upward, joined Expo 86 in 1981, answering directly (and frequently) to chairman Jimmy Pattison. After Expo, Madden rejoined Pattison in the Guinness Tower as a VP-communications.
On Wednesday at , Pattison paid an uncustomary visit to the CJOR studios. Madden was with him. He kept quiet as Pattison told Harvey Gold, the station's three-year general manager, that he was being replaced immediately by Madden, who had once proved his fealty to the station by changing his name.
Madden, 35, becomes the station's youngest boss, which gives him a good shot at becoming the youngest to be fired. Since 1979, Don Wall, Soper, Al Anaka, Tiff Trimble, Ron Vandenburg and Gold have quit or been replaced. Pattison will tinker and patch until he finds a manager who can make big money without spending big money.
(If there was a muffled hoot of laughter from a St. Paul's operating room yesterday, suspect Rafe Mair. The former Socred minister, in for some minor surgery, quit the 'OR morning talk program in a contract dispute with Gold, jumped to CKNW and has become, I think, the best talk host on local radio.)
In the mid-Seventies, it was said that when Jack Webster's aging audience died, CJOR would die with it. Webster is now a 69-year-old sheep-rancher but CJOR is still playing to what is left of his still-older audience, except that it now numbers in the 20,000s rather than the 40-60,000 he commanded in his best days.
CJOR hasn't made a ratings yard on talk rival NW since 1975. Pattison has opened and slammed the budget purse but seems to have shaken his habit of hiring ex-politicians to drum up listeners. Now it may be time for a fierce format change.
I have heard that Madden's immediate mandate is to come back to Pattison in three months with an opinion on the future of all-talk radio. If Madden suggests scuttling talk and making, say, a drastic switch to a hard-rock music format, even if it means Pat Burns spinning Iron Maiden in the evenings, I wouldn't bet against it.
The Jim Pattison Group companies had sales of $1.4 billion last year. CJOR let the side down. And Pattison hates a loser.