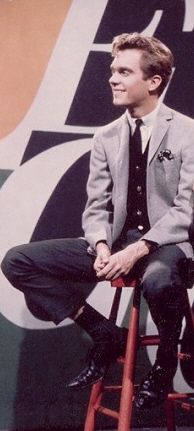 Fred Latremouille
Aka Fred Latrimo; CKYL Peace River AB; p.m. drive CJOR Vancouver early 1962-64; CFUN Vancouver 1964-65; host Let's Go CBC-TV Vancouver 1964-66; mornings CFAX Victoria 1965; CKLG Vancouver 1965-67; host New Sounds CBC Vancouver 1968-70; CKVN/CFUN Vancouver 1970s then morning co-host; host suppertime news package Hourglass CBC-TV Vancouver; host Fred and Friends CBC-TV 1977; morning co-host CKKS-FM Vancouver 1990s; retired from radio; commercial production current
The 54-year-old Latremouille, a veritable household name in Vancouver radio for 35 years, decided it was time for them to "bury the alarm clock, sleep in and hit some golf balls," bringing to a close a six-year relationship with KISS which began following the duo's much-publicized departure from CFUN in 1992.
The story of Fred Latremouille goes back to the early '60s when he began on air in Peace River at the age of 16.
After relocating to Vancouver, he hung around CJOR (now 600 AM), and badgered management until they relented and gave him a job.
Not content to play Country and Western, Latremouille convinced them to let him play rock 'n' roll.
After stints on then Top 40 giants CKLG and CFUN, Latremouille turned his attention to TV as a BCTV weatherman, before linking up with Baldazzi in 1984 to begin their life as a morning radio team.
                                                               ***
Everybody's doin' the Latremotion -- at least they were in 1964, with Fred Latremouille on    drums. It was a Vancouver hit in the days when the city's young rock musicians were beginning to see the importance of making a hi-fi recording
Born October 21, 1945
"I was a big fan of Red's," Latremouille says of his former boss and mentor, and the man who replaced him as emcee of the Beatles' Empire Stadium concert in 1964 when Latremouille had to bow out because of mononucleosis.
Home: BC Radio History