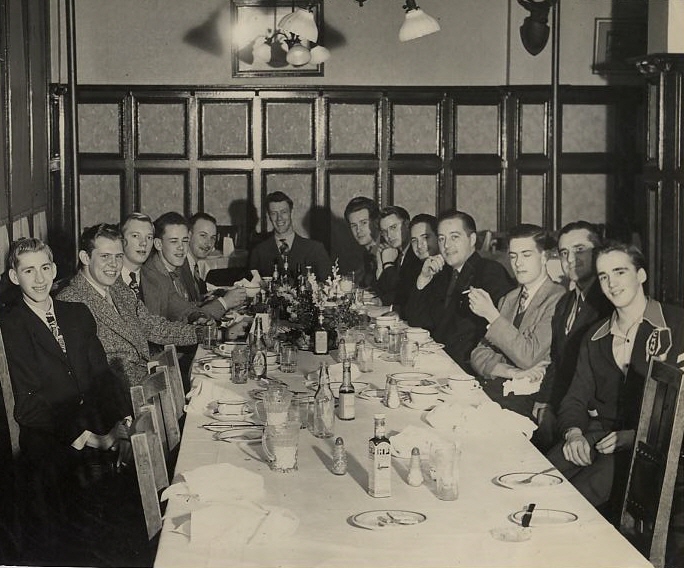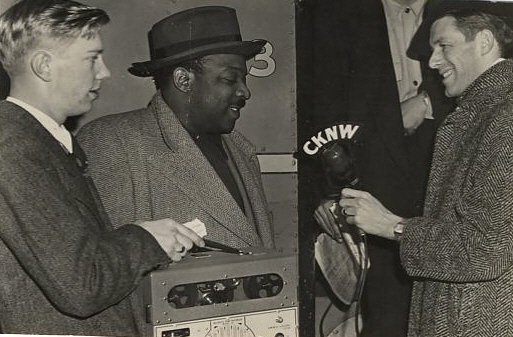 Ferdy Baglo Remembers
Ferdy Baglo - CKMO prior to 1944, CKNW's first music director 1944 - 1950, CKDA 1951, CKNW 1952, CKOM Saskatoon 1953-1958; CJJC 1970 in news.
Playing Country and Western Music live and from record, CKNW began its long broadcasting history on September 1, 1944;  Morning man, Bill Fox; Program Director, Dave Armstrong; Ferdy Baglo, Music Director; Bill Duncan, Chief Announcer; Don Wilson; Ross MacIntyre; Jack Jensen; Evan Kemp; and Rosalie Ontko, and owner Bill Rea started what would become BC's most listened to radio station.
***

In 1958 Ferdy went into the Lutheran ministry and received a degree in religious studies. He writes for church magazines and is retired in Chilliwack.
Ferdy's son 'Glenn Baglo' is an award winning Vancouver Sun photographer.  Another son worked at CKNW, CKIQ, Kelowna and CFAX Victoria.
'Dale Baglo' has his own production studio in Victoria and creates and produces radio commercials for stations across Canada and even into the States. He was at BCIT in the early 70s and Hal Davis arranged for him to work in the control room at NW for a year before he was accepted -- that really gave him a head start. Dale began to specialize in commercial production. He has had a 10-hour Christmas program "The Gift of Christmas" on over 100 stations across Canada for the past 15 years.
***
I was at CKMO from the fall of 1943 to the summer of 1944 when Bill Rea lured me to become part of the original staff at CKNW. In 1950 I joined the production staff of CKDA and was there for a year when I returned to CKNW, at the time planning to study for the Lutheran ministry.
 
In the fall of 1952 , my wife, young son and I moved to Saskatoon where I
began my studies there. While at the University of Sasktchewan and the
Lutheran Seminary I worked at CKOM, again in production. I was ordained in
1958 and as assigned to a parish in southern Saskatchewan. In 1961, I was
sent by the Lutheran World Federation, Geneva, to Moshi, Tanzania, where I
had the job of setting up and running a production studio for Radio Voice of
the Gospel, headquartered in Addis Ababa, Ethiopia. Those four years in
Africa were exciting and challenging. We returned to Canada with our four
kids in 1965, and after some studies in Chicago for a Master's degree,
re-entered the parish ministry in British Columbia. In 1970, I resigned
from my parish in order to complete my masters and took a job as newscaster
on CJJC in Langley. That was my last foray in radio. I did take a TV
production course at Ryerson, Toronto, in 1972, sponsored by the Vancouver
Council of Churches with which organization I worked in public relations and
media. I have not done any radio work since. I did remain in the media,
however, becoming editor of a regional publication for our church, and in
1985 moved to Winnipeg to found the national magazine for our Evangelical
Lutheran Church in Canada -- the Canada Lutheran.
In 1991, I retired and we returned to my home province where all four of our kids and ten grandkids live. After retirement I served as editor of our national devotional publication 'Eternity For Today' for six years, and since 1996 have been the Canadian correspondent for Ecumenical News International, Geneva -- feeding news of ecumenical importance on the Canadian scene.