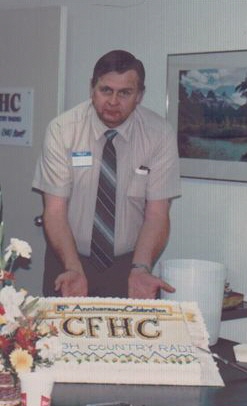 Eugene Lehto (Gene)
Radio Newman
Lethbridge radio, anchor desk CKWX 1973-79, CFHC Camrose/Banff
November 26th, 1992
Calgary Herald
Not all that long ago if someone offered Gene Lehto a helping hand, heíd demand to know what they were after.
As a crusty, veteran newsman of more than 30 years, he believed in the greedy side of human nature.
"I was a downright cynical S.O.B.," he said, shaking his head at the memory.
"Iím not that way now though. Its like my eyes have been suddenly opened after keeping them close for so many years."
In January of 1988, the world Lehto knew came crashing to a halt. Doctors discovered he had a brain aneurysm. When it burst, they didnít think they could save him.
He somehow pulled through, but not without consequences. Lehto lost entire sections of his memory. Unable to work, and with five children, he became an incredible burden on his wife Pam.
"If you ever want to meet a living breathing angel, I`ll introduce you to my wife," he said.
Another unusual side-effect resulted from the aneurysm. For some unexplained reason Lehto felt an incredible urge to go for walks.
"I just had to go," he said. "My wife tried to prevent me from going out on my own - but with five kids she couldn`t keep track of me all the time. I would watch for my break - then I was out the door."
The problem was, Lehto no longer recognized traffic. He would simply walk straight out onto the road. On several occaisions, he was delivered back to his house by police.
His wife was at a function when she was asked by Heritage Park general manager Rick Smith how Gene was doing. She explained the difficulty she was having with his errant walks, and Smith offered her a solution.
Why not bring him to the park, where he could walk to his heart`s content without worrying about traffic.
Lehto said the kind offer has made more of difference than Smith might have ever imagined.
"I really believe it was one of the reasons I healed so fast," he said. "There were times when I would be walking around the park and I would see something - say the grain elevator. I`d look at it and say, `I remember that`, and suddenly a door would open to a whole new section of my memory."
Lehto said he couldn`t begin to say enough about the kindness park staff and volunteers paid him. And as he regained most of his memory, Lehto felt he had to give something back. He asked if he could be used for any duty in the park and his offer was glady accepted.
For the last three years, he`s been one of the friendly volunteers who greet visitors as they enter the park during the 12 Days of Christmas program.
"Gene has such a warm, outgoing spirit, it rubs off on everyone around him," said Donna Palmer, the volunteer coordinator for the park.
She recalled the effect he had on one woman who tried volunteering for the first time at last year`s Christmas program.
"He made her feel so welcome, so appreciated, she spent her entire summer volunteering for us," she said.
Heritage Park spokeswoman Ainsley McCurdy agreed. "When you see Gene, he`s quite a big, burly man. But his kind, generous personality comes through so strong, people immediately warm up to him."
Lehto said the friends who knew him during his media days probably wouldn`t recognize him today. No longer the cynic, he has a new faith in human kindness.
As you enter the gates of Heritage Park to celebrate the traditional spirit of Christmas, perhaps its only fitting that he should be the first person to greet you.