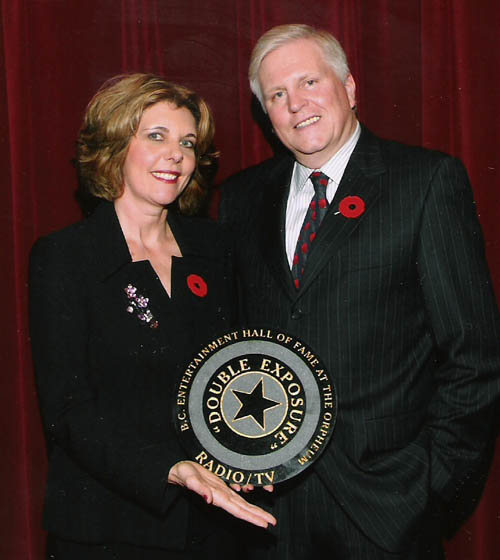 (Vancouver, BC) - For more than 20 years in the Canadian comedy limelight,
Linda Cullen and Bob Robertson of "Double Exposure" have been captivating
audiences with their satirical comedy, political parody sketches and clever
impersonations across Canadian airwaves in radio, television and
screenwriting. Today, this award winning comedy duo is leaping into the modern
realm of online web media and interactivity with the launch of their new Double
Exposure Radio website:
http://www.doublexposureradio.com.
***

By Red Robinson 2006

Bob Robertson and Linda Cullen teamed up in the 1980s and set a new standard in satire.
I first became aware of Bob Robertson when he would make regular appearances on the Frosty Forst radio show each morning on CKNW. Robertson did the weather, but added some of the most incredible voice impressions ever heard in this market.
It was at CKNW that Robertson met up with a very talented young lady named Linda Cullen (no relation to the late Jack Cullen). They paired up professionally and took their hilarity to the CBC, creating a radio program called Double Exposure that went national in February 1987.
What made the pair unique was their uncanny ability to impersonate politicians of the day, whether it was Grace McCarthy, Bill Vander Zalm, Joe Clark or Pierre Elliott Trudeau.
The two worked their magic on radio for 10 1/2 successful years, with a weekly audience exceeding 300,000 listeners.
During that time, Double Exposure was nominated three times for ACTRA radio awards (The Nellies), once winning for best comedy program.
In the 1990s, the show toured Canada, playing theatres in every province and territory. For several years, the duo also wrote, produced and performed in Double Exposure New Year's Eve specials, each titled some variation on A Swift Kick in the Year End, and each garnering an audience of more than one million viewers.
In 1997, the Double Exposure team was hired away by CTV to produce a weekly comedy program. The two took on duties as executive producers, writers and performers, working through their own production company Cullen Robertson Productions Inc.
Despite being up against some heavy primetime programming, their show found an audience and ran for three critically successful years. It was nominated for six Gemini awards, including the Chrysler Canada People's Choice Award, and was the the sixth highest- rated Canadian television program at the time.
When you reflect on the success of their show you can see how Robertson and Cullen set the stage for others to follow, such as the current ratings winner Corner Gas. Double Exposure was recognized elsewhere, too, winning the U.S. International Film and Video Festival's Gold Camera Award.
Robertson and Cullen continued to produce, write and perform in television, and notched another New Year's Eve special in 2003. The pair can also be seen and heard at major conventions across the country throughout the year. They are two of the most entertaining performers you can imagine and are always updating their material to suit the times.
The team is at the Waterfront Theatre until March 26, and serves notice to beware the Snides of March -- a magical, satirical play. They have brought together an ensemble of fellow comics to poke fun at today's headline makers.
In recognition of their contribution to the entertainment industry in B.C., Double Exposure was inducted into the B.C. Entertainment Hall of Fame in 2004 with a star on Starwalk on Granville Street. In many ways, Robertson and Cullen are the George Burns and Gracie Allen of Vancouver.
***
They don't have Bill Vander Zalm and Grace McCarthy to kick around any more - but there's still no shortage of targets for Canada's hottest radio comedy team.
"Vander Zalm was instantly recognizable because he just let it all hang out," says Bob Robertson, who with partner Linda Cullen form Double Exposure, CBC's top-rated radio comedy show with more than a half-million listeners each week. "We're going to miss him."
On McCarthy's fate as a failed Social Credit leadership candidate, Cullen says: "I thought I had it made when she ran. I was sure they wouldn't turn against her again." (McCarthy lost to Vander Zalm in the 1986 leadership race.)
"I could have killed (leadership candidate) Mel Couvelier when he threw his support behind Rita (Johnston)."
For more than five years, Robertson, 46, and Cullen, 32, have carved out a career lampooning newsmakers on their weekly radio show (11:35 a.m. Saturdays on AM 690 and 2 p.m. Sundays on FM 105.7) produced at CBC Vancouver.
"We don't know much about the new NDP government yet," says Robertson. "(Premier Mike) Harcourt isn't the easiest guy to mimic, but he's do-able."
Robertson says Harcourt "has a glibness, even though it's choppy. He relies too much on cliches . . . and he loves to say 'my friends' over and over."
Cullen says she really hasn't tuned in to the women in the New Democratic Party government.
"Really, it depends on whether they develop a national profile. Our show goes across the country, so everybody should recognize who we're doing."
Week after week, Double Exposure makes satirical hay poking fun at politicians such as Brian Mulroney, Jean Chretien and Audrey McLaughlin.
On Joe Clark, Robertson says: "He's so usable . . . a couple of weeks ago when Mulroney was flirting with going to the UN, Joe came that close to being prime minister again. We had our fingers crossed."
As much as Robertson and Cullen show no mercy in doling out comedic shivs, they say their targets secretly delight in the attention.
"You'd think politicians would find it irritating to be made fun of," says Robertson, "but when I meet them I get the impression they really find it kind of flattering."
"Once we've parodied them, they think they've attained another level of celebrity," says Cullen. "In a weird way, they think we're complimenting them."
The pair first teamed up in March 1986 when Robertson, who was born in Britain and raised in Ontario, was writing and performing skits for CKNW.
Cullen, a Vancouver native who'd taken radio at the B.C. Institute of Technology, was working at 'NW and was assigned to be Robertson's technical operator.
"It was obvious Linda had contributions to make," says Robertson, "but 'NW didn't want her on the air."
Robertson had connections at the CBC and pitched the idea of a weekly comedy show. After one pilot flopped, the pair persisted by producing another, which eventually led to a six-week contract.
CBC kept extending its contract, "and the rest is hysterics," says Robertson.
As for a personal relationship, Cullen and Robertson say they're "a couple."
"We've been dating for years, but we don't live together," says Robertson, who is divorced. "We're the opposite of most couples. We spend our workday together and then go home to our cats."