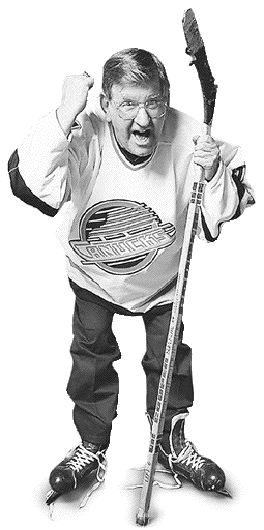 Denny Boyd
William Dennis (Denny) Boyd passed away October 27, 2006 after a courageous battle with cancer.
Denny was a respected author and journalist and radio broadcaster for 30 years with the Vancouver Sun/CJOR.
Denny wanted to be remembered as "A Good Read".
Survived by his daughters Linda, Laura, Lisa, Nancy, son Lenny, and six grandchildren.
 A Memorial Service will be held at , Friday, November 3, 2006 at Mt. Seymour United Church, 1200 Parkgate Avenue, North Vancouver.
***
Reporter/columnist Vancouver Sun 1957-99; sports commentator CJOR Vancouver 1972-77; co-author with Brian Scrivener Legends of Autumn: The Glory Years of Canadian Football 1997; author Denny Boyd: in my own words & The Vancouver Canucks story; recipient Bruce Hutchison Lifetime Achievement Award 1997; columnist North Shore Outlook 2002; recipient Order of British Columbia 2005. Died in North Vancouver October 27/06 at age 76
***
Denny Boyd a long-serving print/radio journalist renowned for his wry observations of public personalities in sports and politics, and for sharing with the public the trials and successes of his own struggles with illness. Mr. Boyd began his writing career as a sports writer and editor and worked his way up to become a daily news columnist, detailing the characters and adventures in Vancouver. His style of journalism has been an inspiration to many faithful readers. Though sometimes considered controversial, Mr. Boyd's columns on sports, gossip and philosophical humour have always been clearly pointed and enjoyable. He tells the true stories of British Columbians for posterity, with kindness and generosity.  Boyd's factual and straightforward method of handling problems has been a role model for those trying to overcome adversity. As an individual, he has battled illness responsibly and successfully. His forthright manner in allowing the public to view aspects of his personal life is rare and admirable. Mr. Boyd has given selflessly of his time and energy to the Heart and Stroke Foundation, the West Vancouver Public Library, and many alcohol and drug rehabilitation organizations. Denny Boyd spent 30 years at the Vancouver Sun. He has published four books, and continues to write in his retirement.
In 1997, he was honoured with the Bruce Hutchison Lifetime Achievement Award.
A long-time columnist, Boyd was born in the now-vanished B.C. mining town of Anyox.  Boyd was around Vancouver long enough to remember what it was like when thousands of dedicated B.C. Lions football fans were warmed by whatever they brought in their wineskins to watch By Bailey, Norm Fieldgate, Joe Kapp and Willie Fleming at Empire Stadium. As a result, he co-wrote Legends of Autumn: The Glory Years of Canadian Football with editor Brian Scrivener. It captures the era of live Canadian football before television swayed audiences from stadiums to couches.
Boyd's two hockey books are The History of Hockey in B.C. and also Pros and Cons: The Vancouver Canucks Story (a light-hearted look at the first three years of the franchise). As a journalist for the Vancouver Sun, Boyd effectively replaced the The Sun's high profile gossip columnist Jack Wassermann who once published a cookbook called Vancouver on 5,000 Calories A Day, in 1971. Boyd also published a cookbook called Man on the Range. Semi-retired in West Vancouver, Boyd published a memoir called Denny Boyd: In My Own Words.
He received the Order of British Columbia in 2005.
***
From the North Shore News (edited)
Denny was a Jack Webster Awards judge and presenter for almost 10 years, making it all but certain that he wouldn't win one, and thus suffer the awkward conflict of having to laud his fine talents while presenting an award to himself.  "I've been getting up there year after year and holding up the award - smiling with my teeth and not my eyes and saying, 'Oh congratulations, you're just so worthy, baaaarrfff,' " said Denny wryly, but not 'ryely', since he no longer touches rye or any spirituous liquor.  He does recall the days when he drank martinis, or, as he wittily prefers to remember it, 'bobbing for olives'.
"I'm winning the Hutch -- given my feelings for Bruce -- I mean, I always wanted to win the Hutch!" That award honors one of the most distinguished and beloved newspapermen in these parts, the late editor emeritus of The Vancouver Sun. As everyone knows, the Webster Awards salute Jack Webster. I hope that when Denny gets the ribbon he recounts the story of how warmly he congratulated another outstanding former North Shore resident, sports columnist Archie McDonald, when he won an award ... and then another, and another. Unexpurgated, it makes a hilarious story. Tell your maiden aunt to close her ears if he tells it.
***
'Boyd's Town' by Denny Boyd
(North Shore News)
Jul 07 2005
"What a savage animal the mainstream media has become. All the characteristics of a beast of the jungle are there. They are covered with a layer of sophistication, honeyed smiles and good tailoring. But under all that are teeth and claws and relentless obsession to track, capture and devour. The appetite is never satiated. They call it news. But the news is a compendium of events that matter, that have an important message, the potential to change our daily lives. What is passed on as news today is rapid-fire, bang-bang titillation of the flimsiest material that can be concocted, twisted, spun and trolled across a screen or a front page, 24-7."