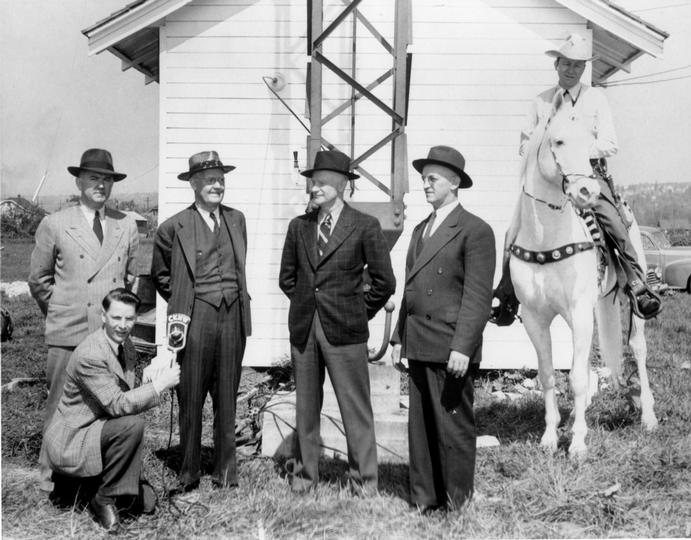 Dave Amstrong
David Montgomery Armstrong: CFCT (Victoria); Prairie stations; early 40ís; CKNW 1944-1949; founded CKDA Victoria in 1950; founded sister station CKDA-FM (CFMS) in 1954; co-founded CHEK TV in 1956. Died April 22, 1985 at the age of 65.
Sept. 1, 1944
Playing Country and Western Music, live and from record, CKNW began its long broadcasting history on September 1, 1944; the official sign on date. With 16 year old Jim Cox as the morning man, Bill Fox, Program Director; Dave Armstrong; Ferdy Baglo, Music Director; Bill Duncan, Chief Announcer; Don Wilson; Ross MacIntyre; Jack Jensen; Evan Kemp; and Rosalie Ontko, Bill Rea started what would become BC's most listened to radio station.
†***
1950
David M. Armstrong started CKDA on January 18.† CKDA operated on 1340 kHz with a power of 250 watts
(full-time, non-directional). Owner: Capital Broadcasting System Ltd.
†1955
CKDA switched to 1280 kHz and increased power to 5,000 watts.
1957
CKDA moved to 1220 from 1280 kHz and increased power from 5,000 to 10,000 watts.
1966
In October, CKDA was given approval to increase power to 25,000 watts (full-time, DA-1) from 10,000 watts
(full-time, DA-1). The change took place in 1968.
1971
CKDA increased power to 50,000 watts (full-time, DA-1) using five 202 foot towers on Chatham Island.
1985
CKDA/CFMS founder David M. Armstrong died on April 22.
***
CKDA, founded by David M. Armstrong in 1949, has a rich and varied history. In the early years, the format was 'Golden Sound Music' - featuring the great sounds of the likes of Sinatra, Nat King Cole and Doris Day. CKDA switched to rock in the late '60s, and was Victoria's leading Top 40 station throughout much of the '70s.
With the increased popularity of FM in the 1980s, CKDA's market share was strongly challenged. By the latter half of the '90s, CKDA had become country-formatted CKXM. It's now on the FM dial with a modern rock format as "the Zone."
***
Local broadcaster Dave Armstrong started CKDA in 1950 and CFMS - Victoria's first FM outlet - in 1954, and co-founded CHEK television two years later.
After the colorful businessman died in 1986, his wife Sheridon Armstrong was in charge.
***
The launching of CHEK-TV in December 1956, introduced by Dave Armstrong, owner of CKDA Radio
***
Dave is a Victoria born and educated man who left the Island in the early 1940's after getting his radio start at the city's original station CFCT.† He subsequently held responsible positions in production and sales in prominent prairie and B.C. stations.† His lifetime ambition was to have his own radio station.† "And it had to be in Victoria," says his father in a Scottish accent undulled by many years in Canada.
Dave first applied for a radio station license in 1947 but was turned down by the CBC board of governors.† A subsequent application the next year was refused also, but a third in the fall of 1949 brought success and it was the initial step toward a second station in Victoria.† A feverish round of activity followed and within 3 months of the granting of a broadcast license CKDA went on the air.† At in the morning, January 18, 1950, the first first programs were heard.† At that night an impressive opening ceremony began with official greetings and comments from prominent government and business leaders.†
††††† Victoria MLA, Captain D. J. Proudfoot offered the opening remarks and was followed by other officials as well as famous stage, radio and screen stars.† After the initial flare of publicity and excitement, the small CKDA staff settled into a routine necessary to merit the confidence of Victoria as displayed on opening day.† In a scant 15 months, the station had captured the greater part of the local listening audience according to the official radio surveys of the Elliott-Haynes Research organization.† It has held that position without faltering since that time to become "Victoria's Most Listened to Station."
††††† Having gained the top position locally the next step was an expansion of power and facilities.† Despite vigorous oppositiion, Dave Armstrong was finally granted permission to boost the station's power to 5,000 watts.† The expansion necessitated a complete new lineup of transmission equipment and new transmitter site.† Chatham Island, off suburban Oak Bay, was chosen for its technical advantages to be the site of the new transmitter and towers.† Contractors and engineers went to work and 2 months later all construction and wiring was completed and signal readied to beam a powerful 5,000 voice from Vancouver Island.†
††††† The tremendous CKDA expansion has been a tribute not only to the energy of Dave Armstrong and the staff, but to the potential of B.C. and of Canada, where opportunities for youth remain unlimited.
Aug. 1, 1954† Victoria Colonist