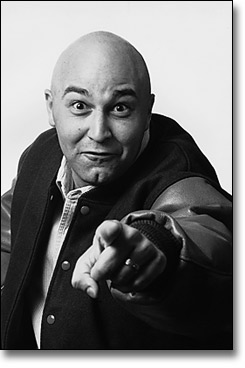 photo courtesy of Anthony Bliss
"Tarzan Dan" Freeman - Afternoon drive/evenings CKAR Oshawa ON 1980-82; evenings/weekends CFFR Calgary 1982-83; evenings CFCN Calgary 1983-88; evenings CKXY Vancouver 1988-90; p.m. drive and evenings CFTR Toronto 1990-94; nationally syndicated countdown The Tarzan Dan Top 20 1993-94; p.m. drive CHOG Toronto 1994-96; On the Air, Everywhere with Tarzan Dan Canada 3000 Radio 1994-96; a.m. drive CKDX-FM Toronto 1998-99; Hits Around The World Air Canada Radio 1998-2002; p.m. drive CISS-FM Toronto 1999-2003; swing/production CHUM AM/FM Toronto 2004-05; a.m. drive CHSU-FM Kelowna 2005-current
***
In 1988, Tarzan Dan did some Winter Olympics coverage for CTV, then left for a Vancouver radio job. Then he moved to Toronto`s CFTR Radio, where he still plays the hits daily.
***
Tarzan Dan never has a bad hair day. The credit doesn't just go to his collection of 75 baseball caps, which is growing, nor to his collection of follicles, which isn't. It's more a matter of attitude.
Tarzan Dan is just up -- when he's meeting kids, racing through the halls of YTV in Toronto or anchoring his weekly music show, if anchoring is really the word for a man whose animated antics seem to be why the portable video camera was invented.
Now in his third year on the national cable channel, the onetime Calgarian was known as Dan Freeman when he first turned up at the AM radio station now known as MIX 1060.
He did fine just as a voice, but the entertainment scene definitely gained something when this unorthodox performer decided to call in at the fledgling YTV after it put out the word it wanted a video jockey.
He found a crowd of applicants, all waiting their turn to perform, many of them clearly crafted in a traditional TV image.
"I auditioned for it like everybody else, says Freeman over lunch during a vacation in Calgary.
"I kept looking at all the people walking up to the microphone like they're God's gift to television. And there's me, Mr. Dorky Pants.
Team took notice
So Dan did what came naturally and put some gusto into it. The hiring team took notice.
Viewers have taken notice, too. You might think they'd get seasick watching the Hit List host leaping around as if the object of the game was to make the camera operator work for every penny of his paycheque.
But rather than reach for the Gravol, many of them seize a pen and postage stamp and express their affection. The letter count averages 1,500 a month, he says.
Record Magazine has declared him Canadian announcer of the year four times in a row, starting in 1990, even though the description "announcer" doesn't really do it, either.
Tarzan Dan prefers the job title of "personality" because it makes more sense.
"Personalities drag you into the radio and they drag you into television. Announcers just introduce the music.
Years before YTV hired this man, he was a nighttime radio personality in Calgary.
He got his start here in 1983, before he shaved his head and before he got the idea of adopting the name of Edgar Rice Burroughs' famous fictional character.
"A bunch of us were sitting around a restaurant, he recalls. "Somebody said to me, `Your show's untamed. It's like a jungle.' The name Tarzan came up, and the proverbial light bulb switched itself on over Dan Freeman's head. "Hey, cool, he recalls saying.
Good career move. It was a good career move.
"Even if you couldn't remember my name, I can do a Tarzan yell and you know half my name. You can mention it to anybody from any part of the world and they know who Tarzan is.
***
Tarzan Dan, not surprisingly, follows his own bizarre fashion formula.
Some of his shirts, in fact, are "too crazy for some people," admits the radio and television personality who's known as Dan Freeman in real life.
"If you buy something with its own style it will never go out of style and never come into style," observes Freeman, host of YTV's The Hit List and a broadcaster on CFTR.
The 28-year-old, who was a top radio announcer in Calgary and Vancouver before coming home to Toronto two years ago, was The Record Magazine's Canadian Announcer of the Year in 1990 and 1991.
Freeman favors a laid-back look with a "funky twist" for every occasion. A perfect example of this concept is his favorite suit - a "nicely draped" black number festooned with fishbones designed by U.S. innovator Joe Dahun. Freeman found the suit at the Bayview Village branch of his favorite Toronto fashion spot, Urban Behavior.
"That store carries a lot of interesting clothes," says Freeman, who updates his wardrobe there about every three months.
The clothes he wears on The Hit List are designed by European manufacturers, Double Duty. "When I wear one of their printed silk shirts, people always ask me where I got it."
Since Freeman's dress for success code is a pair of jeans and a "cool shirt", it isn't surprising that his favorite menswear label is U.S. casual wear designer, Z. Cavaricci.
Comfortable Chewan jeans are a mainstay of his wardrobe. Made in Italy, the denims have patches galore and are designed by a Canadian.
Two years ago he visited Lasting Impressions, an image consultant in Ajax, and discovered he suits black, red and other bold colors.
Freeman says he is just as flamboyant as his alter ego, Tarzan Dan. "The style that I've always exuded with my personality is outrageous on the cutting edge."
He likes to top off his outfits with one of 15 baseball caps, a collection he started two years ago when he began shaving his head to disguise the fact that he was losing his hair. Cherished items include hats from the Toronto satirical pop group, Barenaked Ladies, and a military beret from fellow CFTR radio personality, Tom Rivers.
"When he gave me the beret, Tom said I was psycho enough looking that this hat would look normal on me."

BC Radio History
|