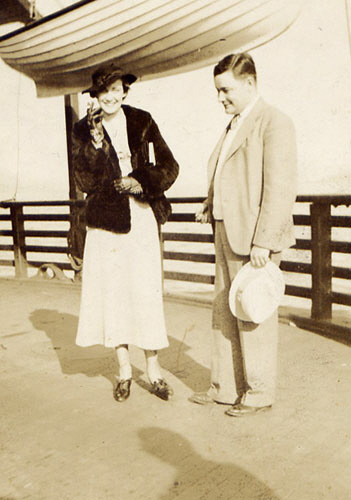 George Chandler with sister Ethelyne in 1929** (see below)

Chandler, George Clarke (1906-1962)

In 1926, radio engineer George Chandler purchased CFXC (1030 kHz 20 watts) from Fred Hume, just two years after the station went on the air in New Westminster. The small investment turned into a major asset.

Chandler changed the call letters to CJOR (1030 kHz 20 watts) and moved the studio to Vancouver, its fish pole antenna located near the old Marpole Bridge at the south end of the city. The power was increased to 50 watts in 1928. Broadcasts originated from the St. Julian Hotel with Chandler's two sisters singing duets to the audience.
In 1930 he moved CJOR (1210 kHz 50 watts) studios to a location above the Alexandra Ballroom at the corner of Hornby and Robson streets. The final move was two years later to the basement of the Grosvenor Hotel at 840 Howe St. In 1933 the station increased power and changed its location on the AM dial to CJOR (600 kHz 500 watts). The station power doubled in 1941 and then to 5000 watts six years later. The entertainment was live music and drama and reflected the politics of the time.
Chandler had the most powerful radio station on the Lower Mainland and was virtually unchallenged for two decades with its owner free to work on industry affairs.
On July 15, 1941, as president of the Western Association of Broadcaster, Chandler criticized Ottawa for its slowness in issuing radio licenses. "Red tape", he said was hampering Canadian stations.

George Chandler died April 20, 1962 at the age of 56 of stomach cancer.
CJOR (600 kHz 10,000 watts) was passed on to his wife Marie, his brother Arthur (26%) and other minority shareholders of CJOR Ltd. Two sisters each with 10% - Marie Ralston and Ethelyne Strain
 The Board of Broadcast Governors forced an ownership re-organization of the station, following complaints over its open line programs and compensation to shareholders. Vancouver businessman Jim Pattison acquired CJOR in 1965.

Born in Ontario March 18, 1906 (Father - Ernest Chandler of Quebec) George and Marie Chandler Resided at 6570 Marine Crescent Vancouver

** this picture came from the collection of Mike Dixon and is captioned – George Chandler and Ethel.
It is believed that the women in the picture is actually Mike's mother Ethel Steele.
<![if !supportLineBreakNewLine]>
<![endif]>
|