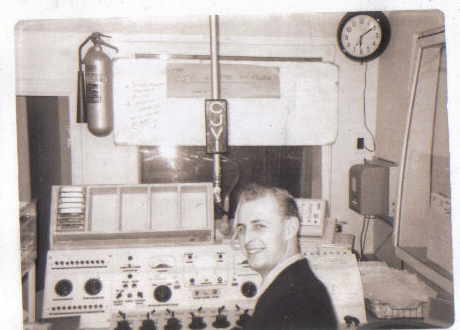 Bruce Payne Page
Bruce at CJVI in 1968
CKAY Duncan 1964
CKPG Prince George in 1966
CHQB Powell River 1967,
CJVI in 1968 - 1970
CKOK Penticton 1970
CKAY Duncan 1970 to 1973
CHEK-TV Victoria till 1986
CKEG Nanaimo -freelance
CKAY Duncan -freelance
Info on Bruce Payne
Well I started while going to high school in Nanaimo hanging around CHUB for several years. Jack Kyle -one of the owners - let me practice and listened and critiqued my tapes. One day he told me I would never make it in radio so I hitchhiked to Duncan and got a job at CKAY the same day. And it was not until I was offered a job by Hal Davis at CKNW and Kyle was there that he told me 'he told me that to get me motivated and out of Nanaimo to realize there was more to radio than there'. After CKAY it was CKPG Prince George and working for Jack Carbutt- a legend. I did radio mornings and Television there. Then to CHQB Powell River a new station the first On air hire. Then CJVI Victoria doing news working for Gord Williamson, Ron Robinson, Joe Easingwood. Then CKOK Penticton you know about that working with Grant Sherwood and Cal George. Then Back to CKAY as PD. Then I was off to CHEK Television Victoria where I was staff announcer and did news on air. I hosted a music show featuring local talent which I did for 11 years. I freelanced for a couple more before packing it in and becoming an Alderman/Councillor in Duncan. I won the first ever Danny Award for promoting local talent and I still have the trophy.

I spent 19 years as a Councillor 13 years at the City of Duncan and 6 years at North Cowichan. During all of that time I worked in radio at CKAY or CHEK television.
I got a few stories, Mike Roberts lived in Qualicum Beach on the island and I was at CKAY as Program Director. He wanted to get into radio so he came down every Wednesday night and I taught him and let him practice at the station then hired him when we had an opening and I put him on the air doing the open mike show. I also hired Tom Lucas (Alan Boyle) for his first job and Jim Fraser used to come to the station send tapes or phone me for a year trying to get into radio and when we had an opening who else would I hire. Those were fun days. I will look for some old radio photos and send them to you soon.
Thanks for showing that old picture of the CKDA studio. I knew I remember that picture Gerry Pash is still in Victoria in the Navy he used to help us with the Victoria Day parades. I did 10 of those on CHEK.
Jack asks - did you meet up with Bruce Kirkpatrick?
Yes I talked with Bruce about three weeks ago (July 2005) when I was at CHEK having lunch with a couple of my old producers. He was there when I worked at CHEK.
Jack says - Tell me more on the CKNW story.
I was on the air doing afternoons at CKAY and got a call from Hal Davis who asked me to meet him for breakfast the next day in Victoria. He heard me on the air and I suspect Jack Kyle told him to listen as he drove through. He offered me a job at CKNW doing what Wayne Cox did after lunch back in 1973. I went over and toured the station and talked to Kyle and Davis and I came home and thought about moving to Vancouver and the money was not quite good enough so I turned it down. Davis was quite upset that I turned down the job and they gave it to Wayne Cox. Oh well - water under the bridge. It was nice to be asked.
Here are some photos of me and my musical guests on the set of Daybreak my old CHEK television show during the taping of a special with Langley singers Vicky and Debbie Roe (Debbie is deceased now) with Patti Macdonnell a recording artist. I have more photos of many singers who appeared on the show if you are interested.

Here is a photo of Victoria Recording Artist Tom Middleton and me on the set of my daily CHEK television show Daybreak during the 70's. I hosted the show first as An Island Good Morning then as Daybreak from '74 to '85 on CHEK .
Thanks to Jim Willey for the scan of the LP
http://www.gulfislands.com/jwilley/pages/compilations.html