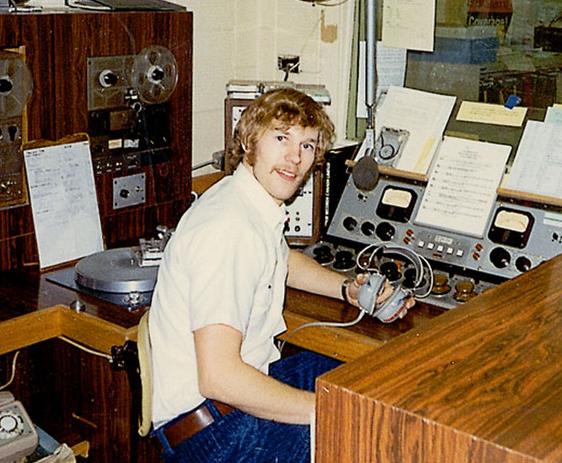 Brian Arnold
at ckpg
1970 CKPG Prince George radio and TV; 1971 radio in Adelaide Australia; 1971 CHQB Powell River; 1975-1993 CFMI (CKNW-FM) New Westminster;  co-anchor, on camera host of BCTV and KVOS-TV weekend series NRS Open House Sunday; film & TV actor; professional commercial, corporate video, documentary narrator; 1986 Canucks PA announcer; 1995-2002 principal and video producer Astral Digital Video; owner Kelowna Photografix
at cfmi
Brian had a long, colorful and happy media career beginning in Prince George in 1970, when he landed his first air shift on CKPG radio. He was a very busy 22 year old producing radio spots in the morning, doing an air shift in the evening and running the TV station, PG13 a CBC affiliate at night.
Australia beaconed in 1971 and although he spent 6 months trying to make a go of it on various stations in Adelaide, he finally became homesick for Vancouver and returned.
Bill Phillips of CHQM, found an opening for him at CHQB in Powell River where he absolutely flourished doing middays on air as well as the positions of production manager, music director and engineer. Eventually the owner, Don Cartmell asked him to design and build a new station at The Beach Gardens Resort.
Brian married to a local beauty in 1973 and by 1975 their first son Brad was born. As luck would have it he was asked to join the team at the newly formed CKNW-FM station in New Westminster called CFMI 101 where he was fortunate to host the mid-day chair for almost two decades and helped turn the station into it's current incarnation, Classic Rock 101.
During Brian's tenure at Rock 101, he began to developed an extremely lucrative voice over career becoming one of the most well know professional voices in Canada from the mid 70s to the late 90s.
He haphazardly ran headlong into an acting career quite by accident and has had the honor of working on many feature films and television series shot in British Columbia, better known these days as Hollywood North.
In 1995 Brian ventured into the video production business and started Astral Digital Video, working inside the motion picture industry. By the time he sold Astral, it had a client list of 444 of Canada's leading and most prolific actors, directors and stunt performers.
Today Brian lives with his beautiful second wife Margaret in Kelowna and spends most of my retirement photographing this stunningly diverse and beautiful province.
***
In addition to being a published nature photographer, Brian is an accomplished video producer with a wealth of corporate, family, and event video and photography experience.
‧ Nature and General Photography
‧ Corporate and event photography, as well as video services
‧ Digital graphics
‧ Brochures and business card design
‧ Editing picture into high resolution DVD movies
This site http:/kelownaphotografix.com/contains an autobiographical history of his careers in both radio; film and television acting; video production; photography and graphic design. Brian's photography has been featured several times on BCTV's Weather Window as well as a three page featurette in the June 2005 Okanagan Life magazine.
***
Brian Arnold
Kelowna Photografix
4519 Eldorado Court
Kelowna, BC
V1W 1G4
Phone: 250.764.4818
E-Mail: info@kelownaphotografix.com