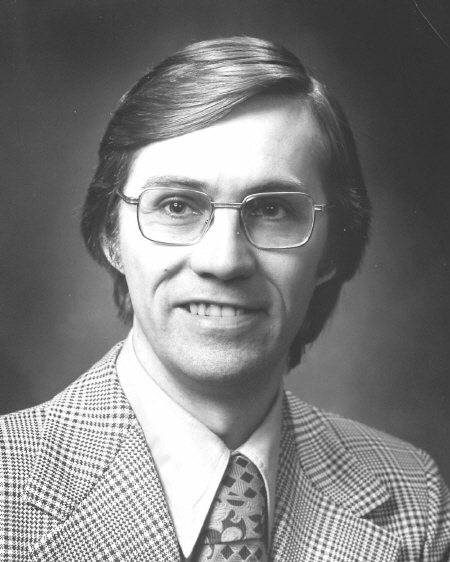 Bob Singleton
Voice of the Abbotsford Air Show
Bob most recently was/is involved with the Abbotsford
Airport Authority. He lives in Mission.
Bob Singleton, the chap in the tweed with the
glasses and asymmetric smile. That picture was taken about 1969/70
In 1965, Dennis Barkman, took over the station with the assistance of Gerry Pash, Bob Singleton, Ken Davis Harold Roberts and Gene Ross
Dennis Barkman, made a deal with Davis, Pash, Singleton, Roberts, and Ross to
between them acquire 1/3 of Fraser Valley Broadcasters while He (Barkman)
acquired the interest of McLachlan and Wolfe.
CHWK was located at 50 Yale Road East and CFVR was in the Park Hotel Abbotsford. CKGO was not yet on the air.
CFVR: The Early Years
   CFVR started out with its own morning show 6 am to 9 am from the first day on the air.  It was the first private satellite operation in the country but was licensed under the condition that it have some locally originated programming.  Eventually the noon hour was added and the 4 pm to 6 pm.  By the time we moved from the Park Hotel to Alwood Street we were separate from CHWK 6 am to 6 pm weekdays.  I recall it was 6 am to 1 pm on Saturday and Sunday was simulcast from Chilliwack.  When I left in May 1972 and that was the configuration with perhaps Saturday afternoon added.  It took much longer than 5 years to become independent and I can't say when it happened as I was running our operations in Penticton.
Feb. 1977 CFVR 1240 Abbotsford moves to AM 850 and increases its power to 10,000 watts. Later in the year, CKGO 1490 Hope moves to AM 1240
With thanks to
"Gerry Pash", former Treasurer, Fraser Valley Broadcasters Ltd
Managing Director Sales--CFVR 1969-1972
Previously at CHWK 1964-1969