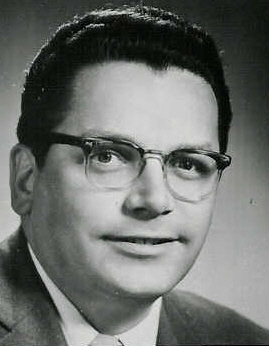 Bjorn Anders Bjornson
b. July 7, 1923 in Bentley, Ab.
d. May 14, 1969 in White Rock, BC
1950 Bjorn worked at CJOR in Vancouver
1951 Moved to Penticton with CKOK
He is reported to have worked at stations in Victoria and Trail but dates are unknown. His first wife, Mary-Anne Bolster worked at CJOR prior to their marriage.
Early in 1960, when the Central Building at Nanaimo and Martin began to burn, he stayed on the air until the last moment. The building housing CKOK burnt down. He was active in the Boy Scout Movement, amateur theatre and performed in a one act farce at Summerland's Centennial program.
In 1965, he left broadcasting and worked in the investment field. Late in 1968 Bjornson moved to Surrey (living with his mother) to start an advertising sales job. On the day he died he attempted to visit a number of people who he had worked with in Penticton including Dave Roegele and Mauri Hesketh.
Hesketh reports that Bjorn was a friendly announcer who went out of his way to interview subjects often taking his young son Bjorn on his travels in the South Okanagan. Penticton was a CBC affiliate and Bjornson fed a lot of his material to the CBC for re-broadcast on the program "Assignment".
One son Bjorn, Jr. in 1961
One daughter Lisa Jane in 1962
Lisa Jane Urist writes to Red Robinson: I have been meaning to ask you for a long time if you have any memory of my father, Bjorn Bjornson, a radio broadcaster/announcer who worked at CKOK in Penticton in the 1950s and 1960s. Tragically he died in 1969 when I was only seven years old. People in Penticton still fondly remember him. He was apparently an excellent interviewer and did a "Roving Reporter" show, which I believe was heard across Canada. He interviewed several famous people, including the Duke of Edinburgh. He also had a wonderful sense of humour.  Unfortunately, I don't have a lot of other information about his work history. Since you are one of the veterans in broadcasting in B.C., I thought you might have some memory of my Dad. Since I was so young when he died it would mean a lot to me to hear about any memories or stories you might have about him.
Red Robinson responds: I met your father only once and that was just as I was getting into radio. I was visiting Al Jordan in Penticton in the winter of 1955 and your Dad was working there at the time doing morning news. He had a wonderful sense of humor, as I recall.  
Link to Station Information Page - CKOK