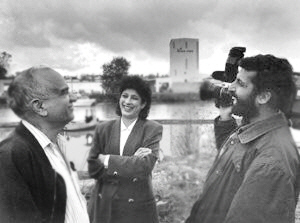 Belle Puri
CKNW Vancouver; reporter/producer Canada Now and Newsworld CBC Television Vancouver current; Jack Webster Award for Excellence in Legal Journalism 2002.
***
Broadcast journalist CBC Vancouver - business reporter - Venture, Newsworld Business News, Money Weekly, Canada Now.
Over 28 years experience in public and private-sector television and radio as reporter, producer, and host.
Assignments have included provincial politics, federal political party leadership conventions, Commonwealth conferences, world summits, royal visits, world fairs, APEC conferences, and tours of Terry Fox, Steve Fonyo and Rick Hansen.
Documentary in the late 1980s lead to designation of BC's Khutzeymateen Valley as a grizzly bear sanctuary.
Winner of regional and national awards in radio and television reporting.
YWCA 15th Annual Woman of Distinction Awards - "Communications and Public Service".
The Centennial Foundation - May 2000 - Toronto, Ontario - award recipient in recognition of leadership, excellence and commitment to the vision of an equitable Canada.
***
1998 - The film - Passage from India
 In his small village in the Punjab, Bagga Singh heard fabulous stories of Canadian land waiting to be settled. In 1913, Singh made it to Canada through the United States, circumventing strict immigration laws which sought to keep Asians like him out. He found work labouring in the lumber mills of British Columbia. Today, many of these mills are owned by the descendants of those first Indian immigrants.
 I met Belle Puri a well known CBC reporter who had now become a producer. I was struck by her knowledge of her family history and her understanding of it, in spite of the fact that her maternal grandfather Bagga Singh had died before she was born. I felt Belle had a very clear sense of herself as a British Columbian whose roots were quite deeply integrated in history. She was proud of the contributions that people like her grandfather made in building British Columbia.
 Being a media personality, Belle was not at all daunted about being in front of the camera. Her family seemed quite remarkable and open as well. Her mother Nsibe, had passed down a lot of stories about her father to Belle. Belle also spoke of the possibility of including other people in the film who were part of the larger family who knew Bagga Singh.
***
Belle Puri is spending her summer vacation (2004) pounding the pavement for a good cause.
The Royal City resident is a participant in the Weekend To End Breast Cancer, a two-day fundraising event in Vancouver. Puri first heard about the weekend walk in January.
"It just wouldn't go away," she says about the idea of walking to raise funds and awareness about breast cancer. "I decided I would do it."
Puri's original goal was to raise $2,000 and use the walk as a way to get fit, but it's become so much more.
"People have been amazing," she says. "There are so many good causes to give to. People aren't tired of giving."
TV reporter John Daly went into Puri's online account and made a donation to top up her fundraising total to $2,000.
Puri has received donations ranging from $5 to $2,000 and from colleagues as far away as Toronto, Jerusalem and Baghdad. She's grateful that no one in her immediate family has had cancer, but like most people she's had friends who've battled the disease.
"There isn't anyone who can't say they don't know anyone who hasn't had it," she says. "With breast cancer, I have a mom, a sister-in-law, two beautiful nieces, cousins and aunts."
A close friend, Clem Chapple, died of a brain tumour about a year ago, which is what compelled her to participate in the Weekend to End Breast Cancer. It's a way of honouring her friend's memory. (She raised $30,000)
***
Fraserside Community Services Society (BCACL)
Vice President - Belle Puri
***
Royal Columbian Hospital Foundation board members include:
Dr. Roy Morton, Medical Director, formerly WX newscaster
Belle Puri was a candy striper at the Royal Columbian as a teenager
***
Belle is quite the community volunteer having served on boards of the Fraser River Discovery Centre, the Massey Theatre, and the CKNW Orphan's Fund
The above are news items edited for use here on this page