John Barton is 'In'


Originally from Saskatoon, John grew up across the prairies in Winnipeg, Calgary, Edmonton and Red Deer. His broadcast career began at 17
in '49 at CKRD in Red Deer -- great all round experience.
In '51 he moved to Edmonton as 'Morning Man' on CFRN.
in late '53 as CKRD program manager. Jerry Forbes lured him back to Edmonton
in '55 for nine years as 'The Morning Mayor' and a stint in marketing and National Sales at CHED.
in '64 he moved to CKWX Vancouver for the morning show and daily talk show on BCTV.
in '67 another move to Ted Rogers CHFI in Toronto for four years
in '71 two more years in Vancouver as program manager of CJOR, plus a couple of CTV Game Shows over the next four years.
in '73 mornings at CJVI and he hosted talk show 'Barton & Company' on CHEK-TV for five years until '82 After 26 years in broadcasting 'enough-was-enough' and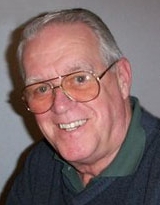 in '82 he became Creative Director of Victoria's Copeland Communications until he retired in 1992, moving to Qualicum Beach in 1994.
In '94 book illustrator and drawing teacher Malaspina College Parksville and The Old School House Qualicum current